I generally don't begin working on promotional items seven months before a release, but I'm on a mission for Her Ladyship. I want to recreate items from the story (like
the keylace in my previous post
) and bring bits of Toriana to life for the readers. Working with that kind vision requires a little time and thought; I have no patterns or instructions so everything will be an experiment to design and make by hand. Sometimes, however, inspiration strikes and I run with it.
Like last week, when I found a small remnant of a grapevine pattern, a swatch of fabric that was roughly 4" X 30"; too little really to be useful for anything. The pattern made me think of vineyards, which led to some memories of a French market, and I decided to buy it and do something with it. Cost: a whopping thirty cents -- proving that inspiration doesn't have to be expensive. As soon as I unrolled the remnant I could see it as part of a bag made of other strips, all cobbled together with some unbleached muslin to make a market tote. So I grabbed my scrap bag and began piecing.
Muslin (especially unbleached) has a natural vintage look and feel to it, and quilts beautifully. I pieced some pretty scrap trims and and muslin strips on either side of the grapevine print, batted and bound it with some leftover cream binding and began to quilt.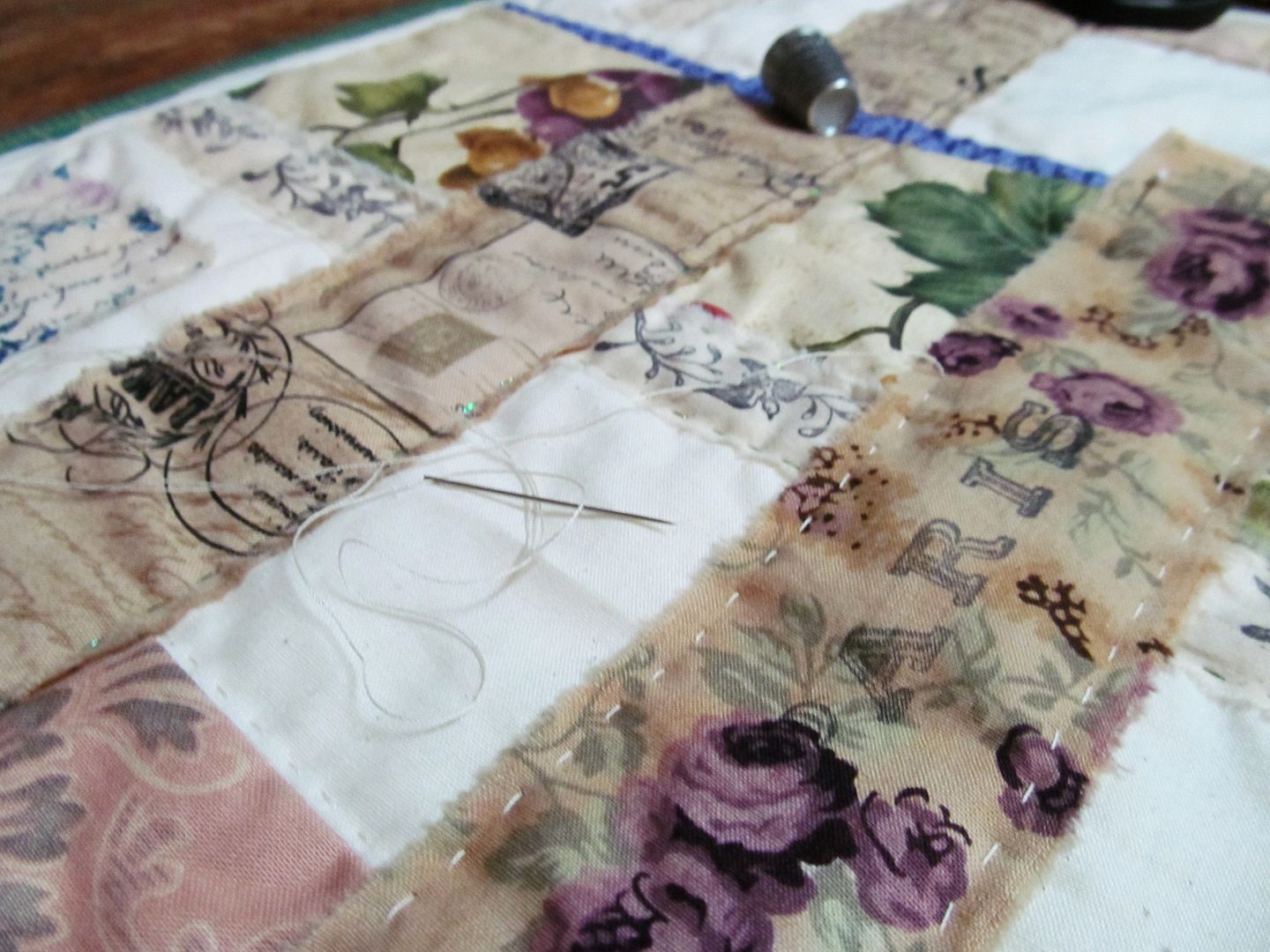 In Kit's world everything that common people use is handmade and (whenever possible) recycled, so it was easy to imagine the sort of bag she might make and carry to market: sturdy, serviceable and washable, but with touches of vibrant color (Kit doesn't like to give into her feminine side, but it usually comes out anyway.) Over time she'd patch any holes in it rather than make new; Kit can't afford to be wasteful. I wanted the bag to reflect those ideas, and
so far it's coming together nicely
.
Making the market bag allows me to work in character and discover more about Kit's personality and preferences. If this were my bag I'd bead it with crystals and lavish on the lace, but Kit doesn't have the time or funds for such fripperies. Crystals might snag her skirts while she's shopping or drop off at an inconvenient time; they're also too fancy for a market bag.
Once the bag is finished I'll stow it in Her Ladyship's promo bin and move onto my next project, which will probably be a reproduction of Kit's nightstone. I found the perfect gem for it a few months back and, once I can figure out how to properly execute the design in my head, will be making it into her pendant.
You don't have to be crafty or a quilter to bring items from your story to life. Write a letter in character, make a meal they have in the story or put together a shelf of books they'd enjoy reading. If you like drafting, make a floor plan for their home or business. Those of you who decorate well might collect some swatches of material, paint, wallpaper and so forth and create a design diary for one of your settings. It's all there in your story and your mind's eye; all you have to do is use a little imagination and ingenuity to bring something from the worlds you build into our world.