Fashion is often regarded as a synonym for the frivolous, fickle and trendy; never more so than when it's applied to clothing. What we wear or don't wear is usually guided by a combination of clever marketing and popular opinion, and in discussion can appear to have as much depth and meaning as the average mud puddle.
As a teen I was interested in the fashions of my era; when I could save up enough money from my after school job I even bought a few trendy things for my wardrobe (most memorably, a pair of black velvet platform shoes, black hip-hugger bell-bottoms, and a black wrap-around skirt. Yes, I was probably the very first Goth.) After high school I lost interest in fashion, mainly because I was too poor to afford it, but regained an appreciation for the technical aspects when I started making baby clothes, Halloween costumes and holiday outfits for my kids.
My admittedly limited skills as a seamstress did come in handy when as a writer I began creating new universes. In my StarDoc SF series I had to cook up wardrobes for characters belonging to dozens of different species; not always an easy task. I had a bit of leeway in that no one else knew what humans or aliens would be wearing in the far future, so I could invent what seemed sensible to me based on the environments, cultures and job demands. Obviously one doesn't go jaunting around unexplored space in hot pants or a tube top.
To create the fashions I needed for the Disenchanted & Co. universe, which parallels our own Victorian era, I had many more resources to tap, including photographs of real live 19th century people wearing actual 19th century clothing. One of the finest collections I found was Kristina Harris's
Victorian Fashion in America
, a picture book with 264 vintage photographs with dates and valuable explanations of the garments shown.
As Toriana is a parallel universe I couldn't exactly duplicate 19th century American fashions, but I could use them as starting inspiration for my own designs. My ladies still wear gowns, and my gentlemen suits, with some variations to both unique to my world-building. One example is the waister, a kind of cloth cummerbund worn by women which acts as both a belt and an external corset (even in parallel worlds the ladies want to have a well-defined midsection.)
I've sketched a few Torian garments to get a feel for how they would actually look outside my head, and enable me to better describe them in the story. Here's one of the outfits Kit wears in my second novel: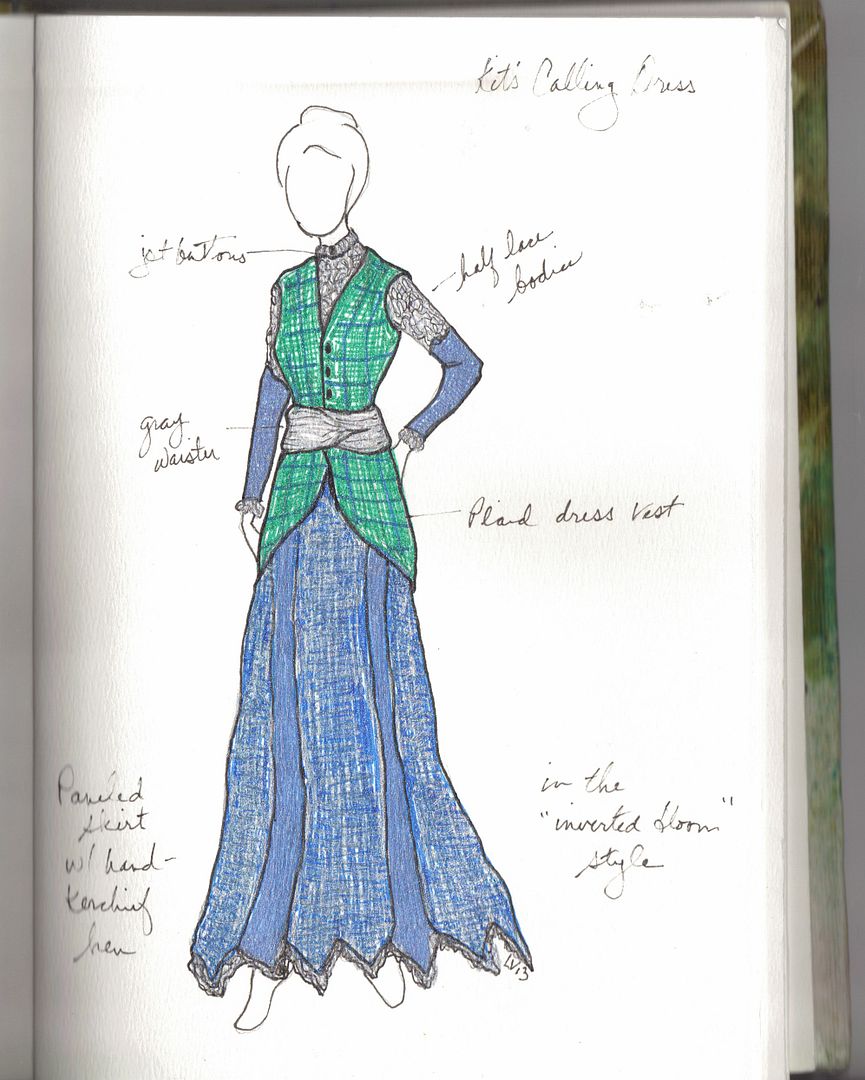 All of the notes are really for me rather than the reader; I need to know all the details I can. The half-lace bodice is another of my designs that dates back to a time when large amounts of lace were difficult for Torian dressmakers to import and the country had yet to start manufacturing its own. Such practical improvisations often become fashionable later on as part of a nostalgia trend or a variation of retro style.
Clothing fashion still might seem pretty frivolous, but documenting it helps preserve a snapshot of an era -- what people wore and how they wore it. Without Kristina Harris's excellent collection of photos I would have to mostly rely on text descriptions of Victorian-era American clothing, which can often be inaccurate or contradictory. Seeing the actual clothes photographed on Victorian American people is so much better, because it is like looking through a window in time -- it's the real deal.
We can't preserve every fashion, and while I still have a black T-shirt hanging in my closet that dates to 1978, my platforms, bell bottoms and skirt are long gone. I think my mom has some pictures of me wearing seventies fashions, which are now (Holy Toledo!) thirty-five years old. Maybe in another sixty years you'll see a snapshot of me in a vintage photograph book, with the caption "Teen in all-black; possibly early Goth."