Last week I attended my favorite county quilt show, which was two days of complete delight while hanging with my quilter pals, seeing hundreds of amazing quilts and thousands of fabrics, notions, widgets and just about everything a needlewoman drools over in her dreams. If you've never been to a quilt show it can be a fascinating experience, and the vendors as well as the folks who run the show are friendly, helpful and chock full of advice and ideas.
In years past I've always gone to this show to see friends, be inspired, stock up on hard-to-find items and just generally have a good time. This time I went with a slightly different goal: to look for world-building ideas. Unlike most of the goods in our world, everything in the Toriana universe is handmade, from clothing to blankets to accessories to decorative items. Among the common people, who generally don't have the funds to buy premade items or new materials, reusing and recycling is especially important. I've already created a number of items unique to my universe but I have an ongoing list of things I need to invent or makeover, and I was hoping I'd see designs or techniques that would point me in the right direction. Which I did, as follows:
At the gild boutique I found this wonderful patchwork pear made of multicolored bits of wool and backed with tweed. I could envision a Toriana woman raiding her scrap bag to make something like this; she might not have enough good pieces of one color to make the pear so she'd piece together what she could in crazy-quilt fashion. The bold design and simple embroidery gives the piece a terrific graphic punch, and might be something she'd make to hang in her kitchen or her child's room.
Not having enough fabric wouldn't stop the women of Toriana from making their own, either. The make-do designs of this pretty little bag made from ribbons sewn together and these strip-pieced and crazy-quilted bags had me thinking of what happens to all the Torian clothing and gown sashes and hat bands and hair ribbons once they've become torn or soiled or otherwise unusable for their original purpose. A clever needlewoman might trim off the damage bits and sew them together to make a larger piece of fabric that could be fashioned into a reticule, shopping bag, fichu or shawl.
At one booth I noticed a group of woman hand-dyeing their own silk scarfs, and while I've only done some very limited experiments in dyeing fabrics it looked so easy I had to give it a try. Thanks to the instant, wet-set dyes and the friendly instructor my scarf came out beautiful, and I had a bit of an epiphany as to how Toriana women on a limited income might liven up their wardrobes by hand-dyeing their muslin, cotton and broadcloth fabrics. Stretching homemade dyes by diluting them or over-dyeing fabrics might create some lovely watercolor-like fabric patterns similar to the scarf I made (and I have a lot more research to do in this department, as my knowledge of 19th century hand-dyeing methods is miniscule, but now I have a better idea of what to look for to suit Toriana.)
One aspect of my universe that I've been waffling on with is precisely how Torians deal with the color black. It didn't come up as an issue in the first two stories, but mourning practices are very present in the novel I'm working on now. As it stands Torians have disliked wearing black ever since Queen Victoria II's first act after assuming the throne was to issue a compulsory public mourning decree for the entire empire that lasted three years (a historical parallel to how her mother mourned Prince Albert's death in our universe.) Initially Torians were suspected of being behind the royal family assassinations, and in retaliation the Queen had every known rebel and rebel sympathizer rounded up and questioned. Unfortunately things got out of hand and hundreds of Torians died while in custody. Once it was discovered that the assassins were Talians the Crown released the Torians who survived, but from that time on black became a symbol of persecution for Torians.
Instead of trying to remove the color from their culture, I thought the Torians would do some secret, subversive thing with the color black. I found the perfect inspiration as to what when I saw these two blocks with gorgeous applique work on black backgrounds. Flowers, which to me have always been the symbols of love and hope, were already part of my world-building, and seeing them against the black background gave me a Eureka moment. Torians use flowers in symbolic ways to remember those who died during the lost war of independence, such as displaying forty-seven roses on the day when the last forty-seven soldiers fighting the war chose suicide over surrender.
Thanks to the blocks I've decided Torians will never wear plain black. Instead, they'll trim it with bright floral colors or embroidery. The number of flowers displayed on their black garments will equal how many family members and friends they lost during the persecution.
Now onto the giveaway I promised: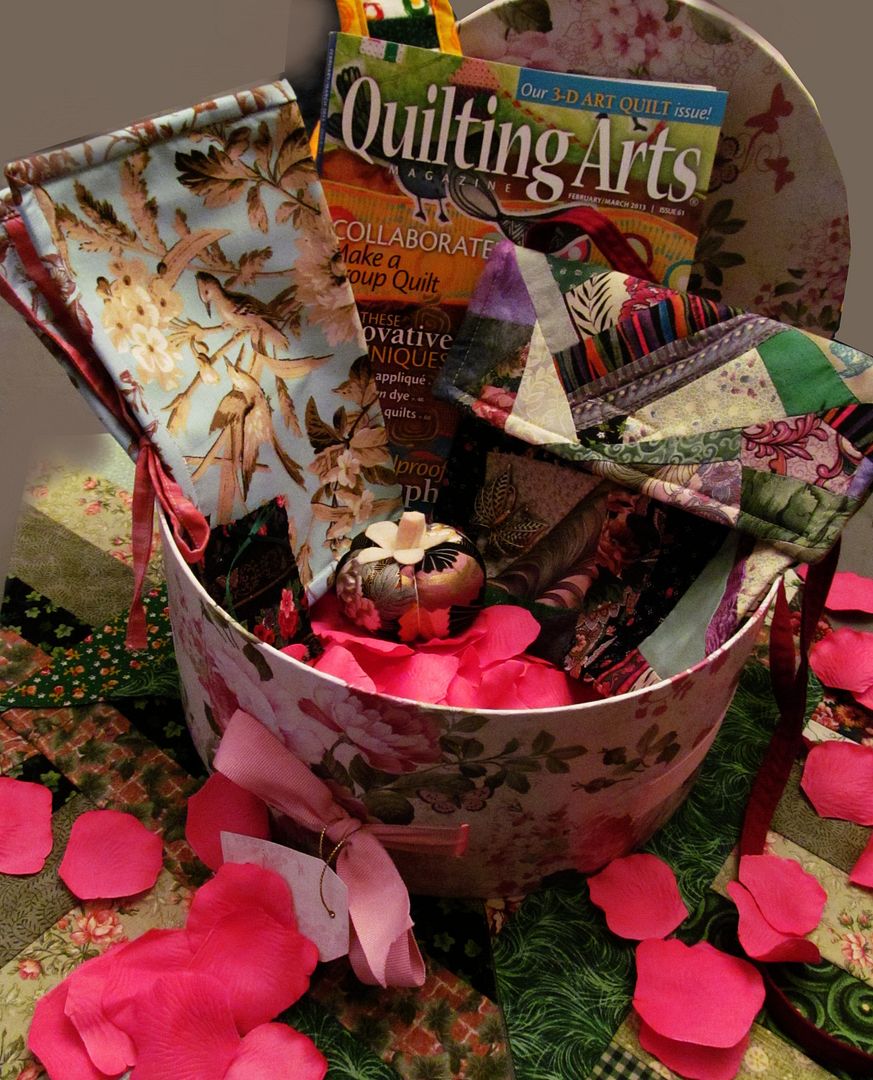 As you can see I've stocked Her Ladyship's Hat Box with the latest issue of
Quilting Arts
magazine, one of the quilted bags that inspired me, and some other neat swag from the show. If you've like to win the lot in comments to this post name something you think the ladies of Toriana might regularly reuse (or if you can't think of anything, just toss your name in the hat box) by midnight EST on Friday, March 15th, 2013. I'll draw one name at random from everyone who participates and send the winner the magazine, the bag and the other goodies. This giveaway is open to everyone on the planet, so please join in.