There is really nothing more old-fashioned that a sachet -- most people identify it as the little bag of scented herbs or potpourri that Mom or Grandma kept tucked in the linen closet or lingerie drawer. In fact smelling of "lavender sachet" used to be a popular synonym for elderly.
Sachets are very old; in fact they're ancient. The Egyptians used sachets of wheat and barley to determine the gender of an unborn child (the grain sachet was soaked in the Mama-to-be's urine and left to germinate. Whichever grain sprouted first indicated what Mama was having: barley meant a boy, and wheat a girl.) While the Black Death raged across Europe people would carry sachets of lavender and other dried flowers and herbs to ward off infection -- the infamous "pocket full of posies" from the Ring Around the Rosie nursery rhyme (I'm sure they also helped them cope with the smell of all the dead bodies.) For the same reason during polio epidemics American women would hang sachets of camphor around their children's necks. Sleeping with a large sachet of dried hops, called a dream pillow, was a popular treatment for insomnia. In Africa the sachet is known as the gris-gris bag, a protective talisman filled with charms as well as herbs.
The sachet is no stranger in the kitchen, either. Cooks have always used sachets of herbs tied up in little cheesecloth bundles to infuse their soups and dishes with flavor; anyone who has made classic French onion soup or beef consommé has probably made their own
bouquet garni
. One possible explanation for the invention of the modern tea bag is thanks to an American importer, who packaged loose tea to send to his customers in small silk bags to cut costs (tins being more expensive). A friend of mine who specializes in making tisanes (herb mixtures brewed like tea for medicinal purposes) stores her concoctions in little organza bags.
When I make sachets, which I do every spring, I follow a custom dating back to medieval days, when bathing and laundry weren't too popular. Sprinkling herbs on clothing was a way to deodorize them, but the oils in the herbs sometimes stained the clothes, so women began placing them in little cloth bags (this was also economical because it allowed to reuse the same herbs many times.) Bags of herbs and/or cedar shavings were the first moth repellents, too. Unlike our medieval ancestors I do bathe and wash my clothes regularly, but I still like to tuck sachets in little spaces like drawers and closets to as a natural way to keep lingerie and stored clothing and linens from smelling musty. I also make up sachets of herbs that I keep in storage bins, the cubbies in my desk and in sneakers, boots and winter coat pockets.
I like sewing decorative sachets because I like to embellish things and give them a vintage look. Here are some of the ones I made last year:
Anyone can make sachets, and the fastest and easiest are the no-sew type. The simplest way is with purchased potpourri; place a small amount in a purchased muslin or organza draw-string bag (
click here to see some examples
.) You can also make up sachets from circles of tulle or organza by placing a small amoutn of potpourri in the center, gathering up the sides and tying them off with a pretty ribbon, like so: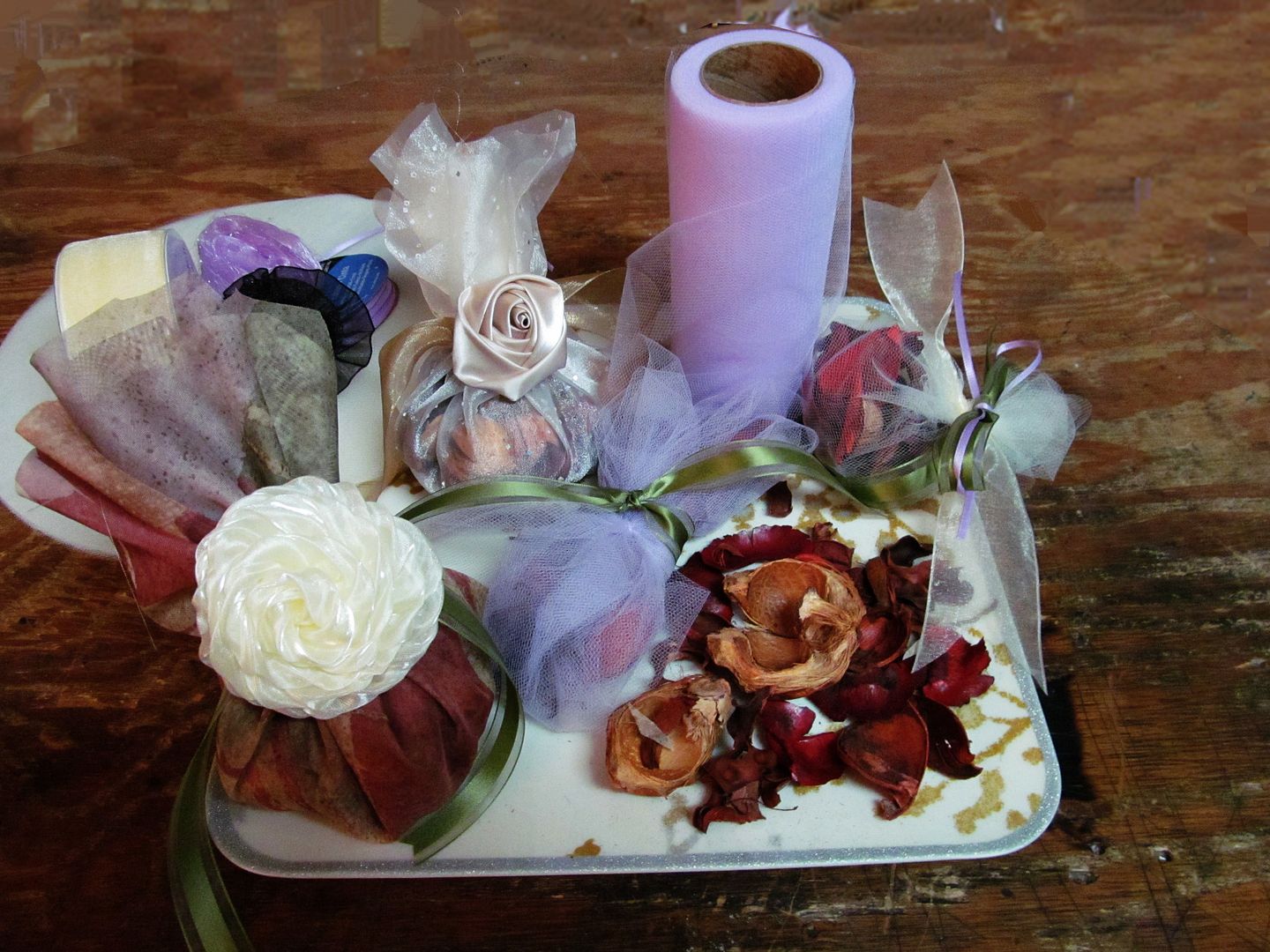 If you use tulle for your sachet you should double-layer it as the netting might otherwise shed some potpourri pieces. To get an attractive top to the sachet cut your tulle or organize in a circle before you fill it up and tie it off. The pretty ribbon flowers on my examples here are actually fabric corsage pins I found in the bargain bins at Jo-Ann for a dollar; you could also use old brooches or clip-on earrings in the same fashion.
For larger sachets you can lay flat you can make a pillow sachet out of
two old handkerchiefs and some thin ribbon
. I wheedled two out of my mom that had frayed hems and a couple holes in them, and sewed them together around the edges with the ribbon using a tapestry needle: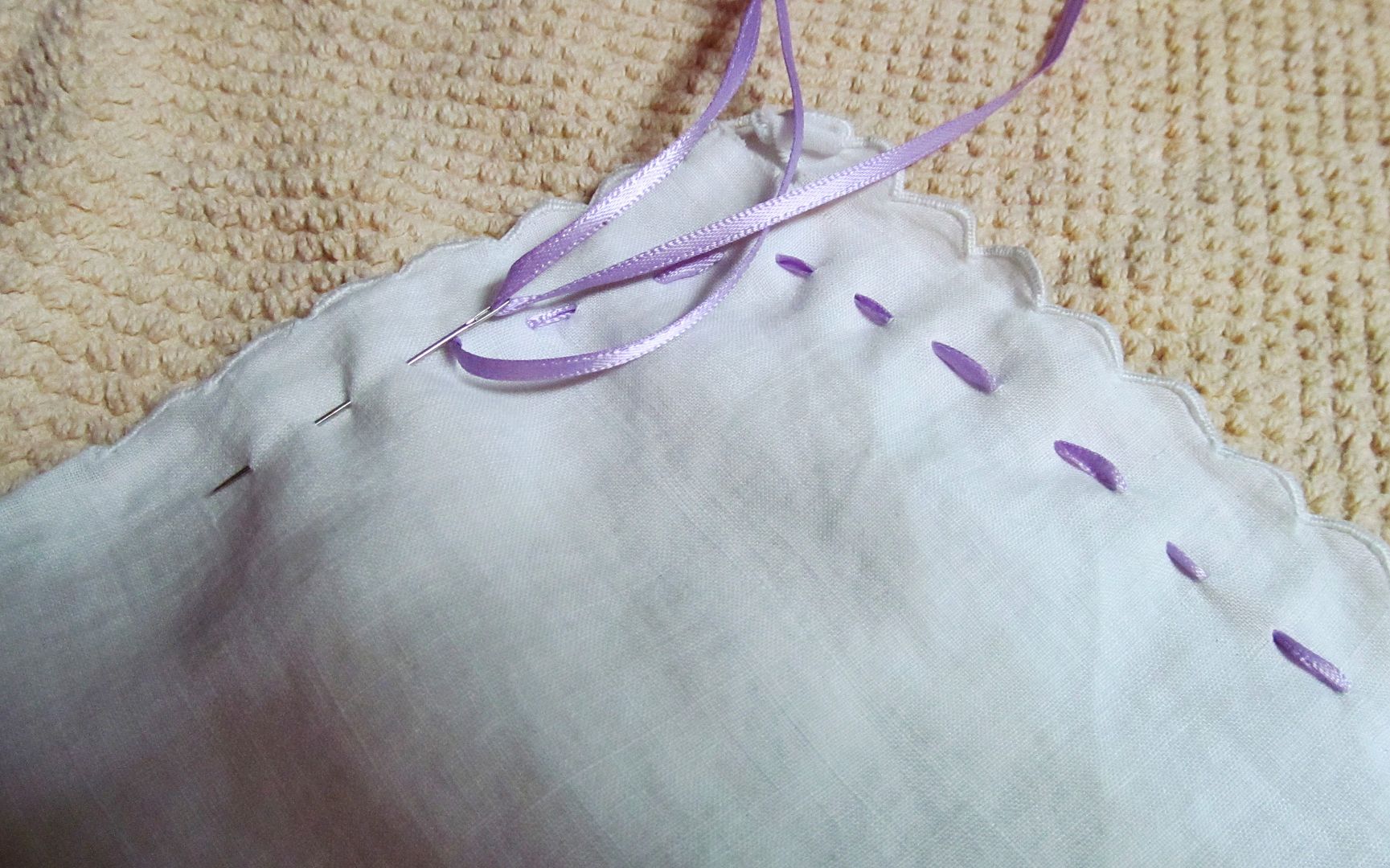 If you try this use big stitches so that the ribbon shows, and remember to stop a few inches before you finish stitching for enough space to open the sachet and add the potpourri: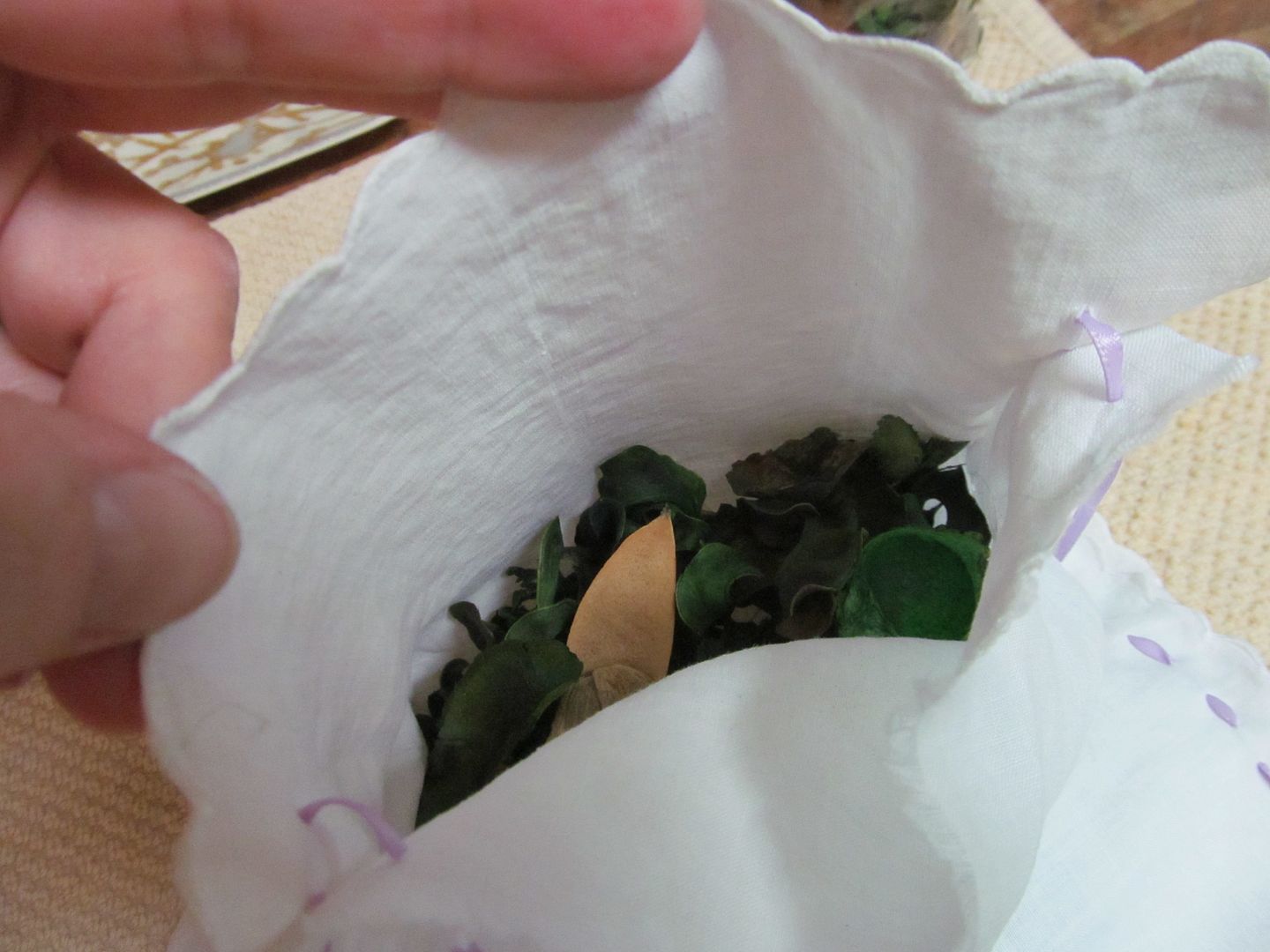 For demonstration purposes in this post I've used some potpourri I bought at Wal-Mart, but I'm picky about scents so I generally use herbs and spices: French lavender for my clothing and quilts, patchouli or rosebuds for linens and paper goods, citrus and clove or sage for stored Christmas ornaments, winter clothing or the kitchen spaces, etc. While I purchase a lot of single-scent herbs I also make my own custom mixtures, too. Here's my recipe for a kitchen sachet blend (all of these ingredients are dried, btw):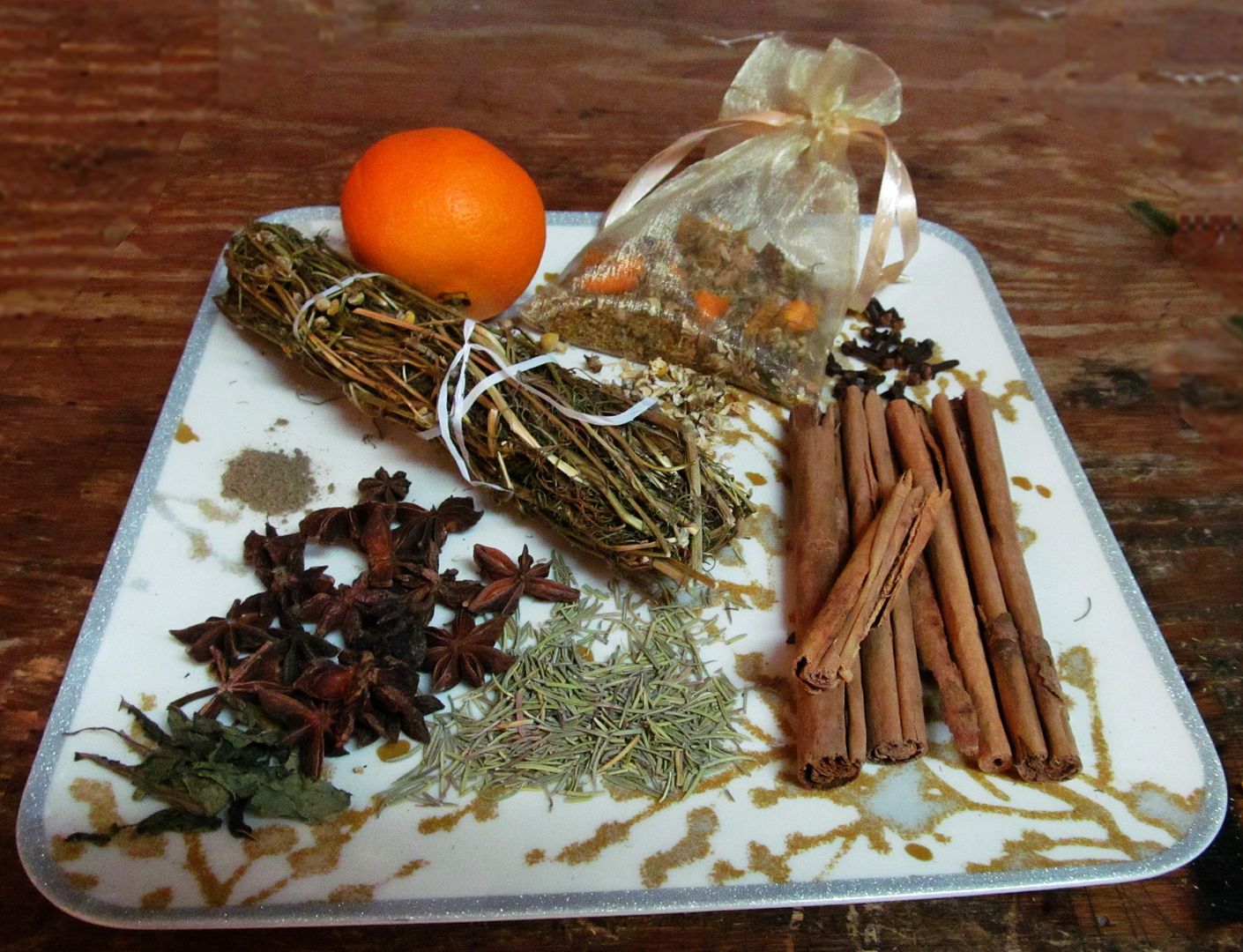 2 tablespoons chamomile
1/2 cinnamon stick, broken into pieces
2 star anise
1 teaspoon whole cloves
2 tablespoons orange peel
1 tablespoon rosemary
1/2 teaspoon ground sage
2 or 3 spearmint leaves
Because this recipe uses dried herbs and spices you need to mash them up or grind them to release the essential oils and get the scents to blend well. You can do so with a food chopper or processor
but I like to run them through a nut mill
. You can also adjust the amounts to suit your nose, just be cautious with the star anise, sage, cloves and the spearmint leaves as even a small amount of these give off a powerful or pungent scent that can overwhelm the others.
Another bonus of using natural herbs and spices for your sachets is the green factor. Commercial potpourri is often scented with artificial/chemical fragrances that are skin irritants, so they shouldn't be used anywhere they'd come in contact with clothing, towels, shoes etc. I prefer to use all-natural blends so that when my sachets lose their scent (as eventually they all do) I empty them outside in the garden to return them to the soil. Once year some of the lavender even took root and started to grow.