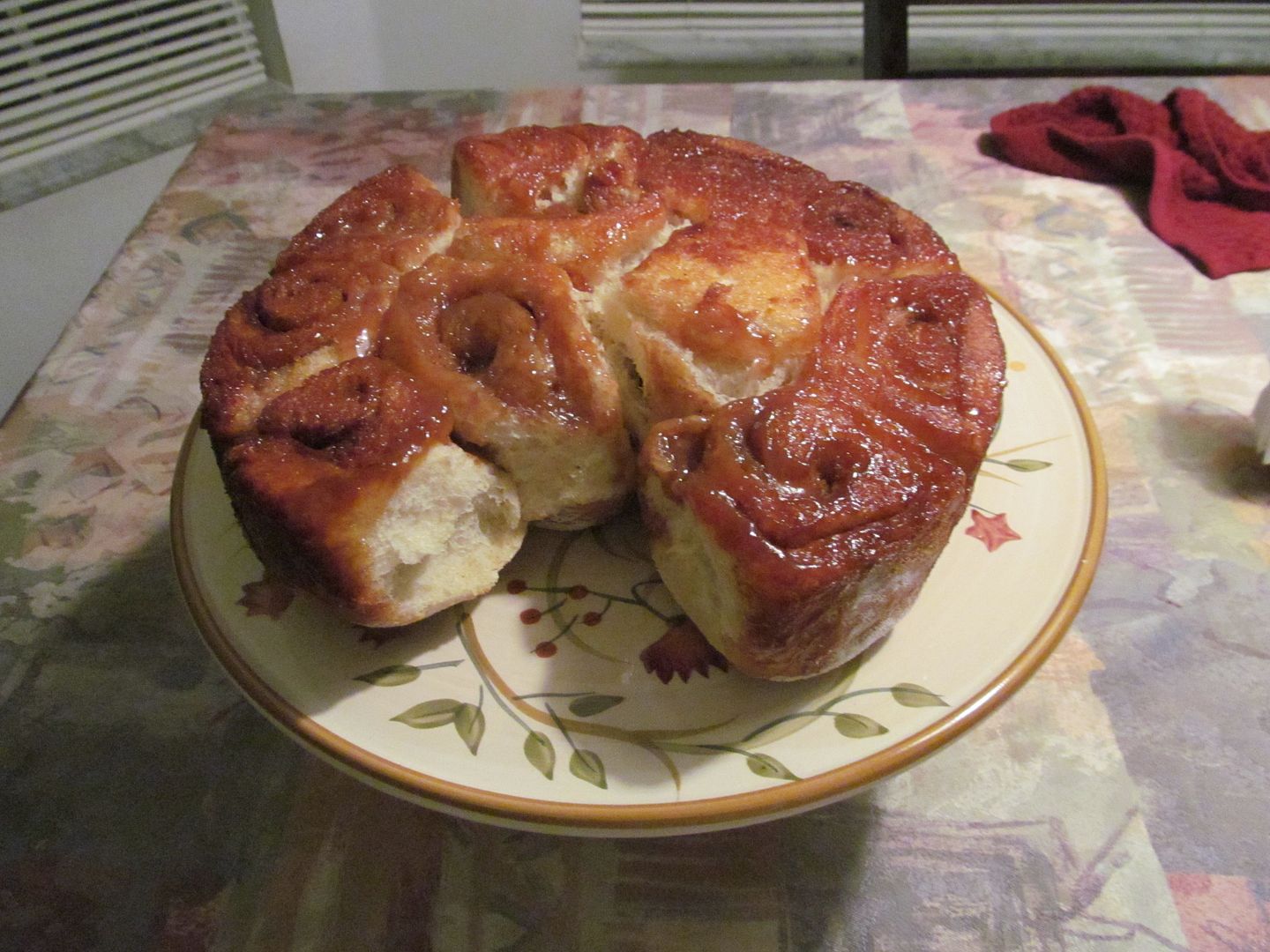 In my Disenchanted & Co. novels one of Kit's favorite breakfast treats are the sticky buns she buys from the teacart near her office. These are the Toriana version of American cinnamon rolls, made all in one pan like a pineapple upside-down cake (and to give you some visuals I've linked to photos of what the buns look like as you make them in the instructions below.) This recipe, which I modified and trimmed down from an old Cooking Light version I used to make for big family brunches, will yield an even dozen buns.
Dough
1 package 1/4 oz. dry yeast*
1 teaspoon sugar
1/4 cup warm water
2 cups all-purpose flour
1/8 cup sugar
1/2 teaspoon ground nutmeg
1/2 teaspoon salt
1/2 cup milk
1/8 cup water
1 large egg
Topping
1/2 cup brown sugar
2 tablespoons milk
2 tablespoons corn syrup
1 tablespoon butter
Filling
1/4 cup brown sugar
1 tablespoon ground cinnamon
1 tablespoon butter melted
You should also have on hand a 9-inch square or round cake pan, cooking spray, an extra cup of flour, a rolling pin and a bread board or other clean flat surface to roll out the dough.
Combine the first three ingredients in a mixing bowl and let it set for a few minutes until the yeast begins to bubble or foam (if it doesn't do anything, you need to toss it out, buy some new yeast and start over.) Add to the mixture the rest of the ingredients for the dough, mix until blended, and then knead until smooth and not sticky (I use a a standing mixer with a dough hook for this; you can also knead the dough by hand on a lightly-floured bread board. By mixer it takes about four minutes on medium-high, by hand it takes about ten minutes.)
Coat a large bowl with cooking spray, transfer the dough to the bowl, spray the top of the dough with cooking spray, and
cover with a piece of plastic wrap
. Let the dough sit in a warm spot in your kitchen for 45 minutes to rise
until it doubles in size
.
While the dough is rising, mix in a small saucepan the topping ingredients, and heat on medium, stirring regularly until it bubbles. Coat the inside of your 9-inch cake pan with cooking spray and
pour the topping mixture into it
to cover the bottom. Set this aside for now.
Now make the filling by melting the butter in a small bowl and then mixing in the brown sugar and the cinnamon. The blend should be a little crumbly, like streusel topping.
Once your dough has risen, punch it down, let it set for a few minutes and prepare your bread board by lightly flouring it and your rolling pin. Place your dough on the board and
roll it out into a rectangle
that is roughly 12 by 10 inches.
Sprinkle your filling mixture
all over the rectangle of dough, gently pat down the filling mixture, and
then roll the dough from one 10 inch side to the other like a jelly roll
. Pinch the dough together along the length of the roll to seal it but don't pinch off the ends. Using a sharp knife,
cut your dough roll into twelve 1-inch slices
, and
place each slice cut-side down on top
of the topping in your cake pan.
Once you have all the slices in the pan
place it in a warm spot for 30 minutes so
the buns can rise
.
Preheat your oven to 375F, and bake your rolls for 20 minutes
or until golden brown
. Remove the pan from the oven, slide a knife all around the edge between the pan and the rolls, and then cover the pan with a plate, invert and you've got hot, fresh Toriana sticky buns.
You can also customize this recipe to your preferences -- have some fun with it and add chopped pecans, walnuts, raisins or dates to the filling mixture, or sprinkle them on top once you've popped the baked buns out of the pan. Sometimes I sautee some diced apples in a little butter and brown sugar as a fruity topping for the buns; you could probably do the same thing with diced pears. Sliced almonds also look beautiful sprinkled or arranged on top of the buns.
*I originally posted this as 3/4 oz., which was a typo. The correct amount is 1/4 oz. Thanks to Christy for catching my error.