However it's used, Steampunk is a very compelling artistic style. Somehow it manages to be both antique and futuristic; it startles and satisfies the imagination, and it forges an immediate connection between the commonplace and the fantastic. As a writer I've discovered writing steampunk-styled urban fantasy is a wonderful challenge, but I've also been experimenting with it via sketches and paintings as well as some of the jewelry I make.
I first became interested in the steampunk jewelry when I started seeing it at some of the craft shows we attend. My daughter went crazy for it, and since she was definitely not a jewelry lover that also got my attention. Over time I began buying a few pieces to give to her as gifts; most I found at various shows. Here are some of her favorites:
I'm also not a fan of most jewelry mainly because I can't manage the tiny fasteners anymore, and rings are like devices of torture when my arthritis flares. Despite this I was drawn to the steampunk pieces I saw; aside from the lovely antique look they all seemed to have a little story waiting to be told. I was particularly interest in pocket watch pieces; they're the only sort of watch I don't hate, and they were often transformed into something else. In time I built up a little collection of my own: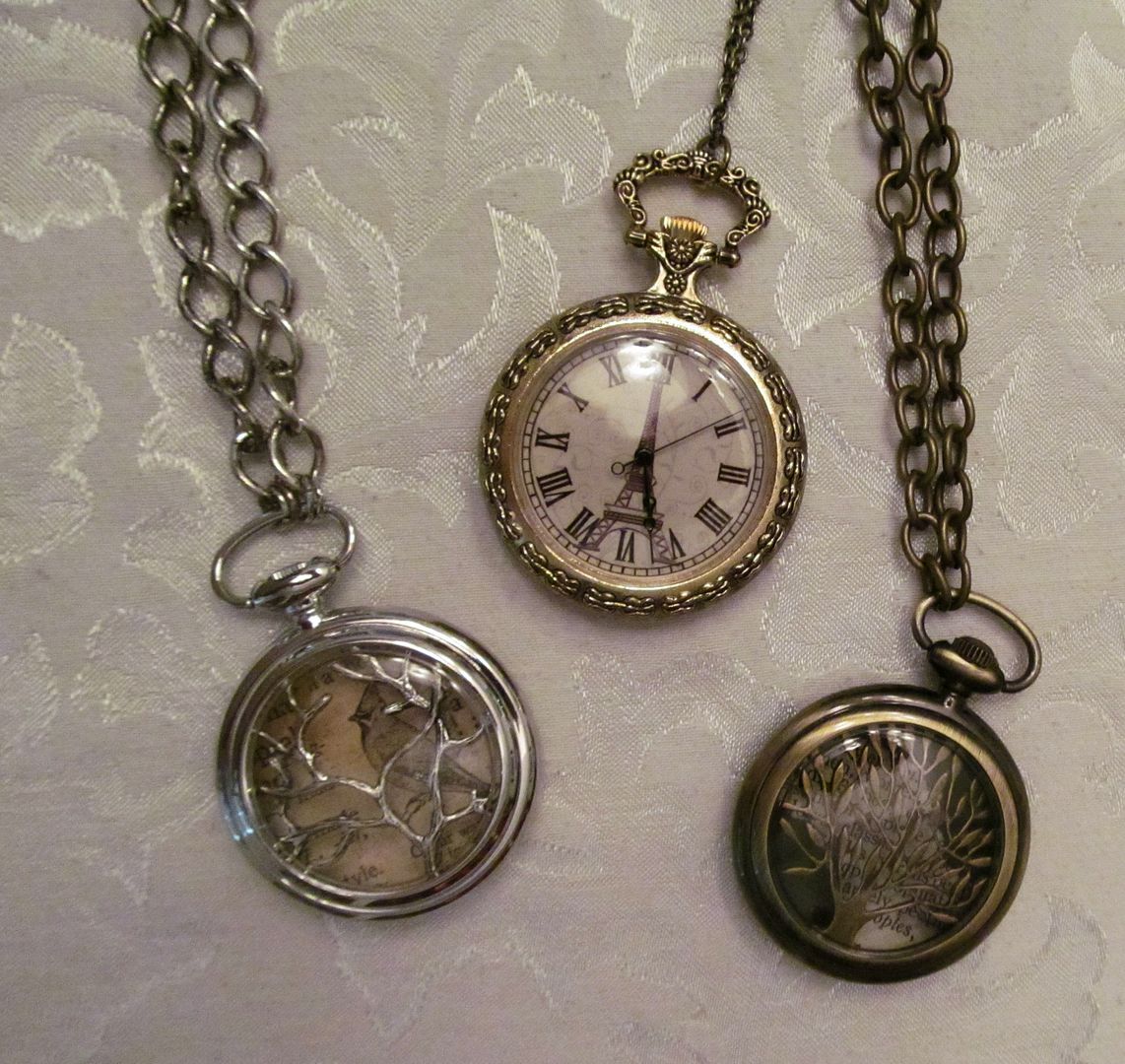 Art that intrigues me that much usually tempts me to try my hand at it, and once I worked up the nerve (took a while) I decided to make my own steampunk pocket watch piece to go along with a story I was writing. My first attempt is the watch you see tiled in the background; it came out so well I was totally hooked.
Here's a compass watch I made for an art swap with a jewelry-maker friend:
Today I finished this piece, which was inspired by visitors at my writing blog:
I know my vision of steampunk is a little different than the usual sort -- I like more sparkle and color, so my style is probably more like steampunk glam. I like what I bring to it, though, and I think it's important to be true to yourself versus doing what everyone else is doing.
I'm just an amateur, and the pieces I make are for fun, but there are some seriously talented artists out there making all sorts of fascinating, professional-quality pieces. Sparrow, the artist who created the collage art I wrote about
in this post
, is also a jewelry-maker and does some stunning work. I just acquired this piece from her and I think it's exactly the sort of thing you'd see Kit wearing: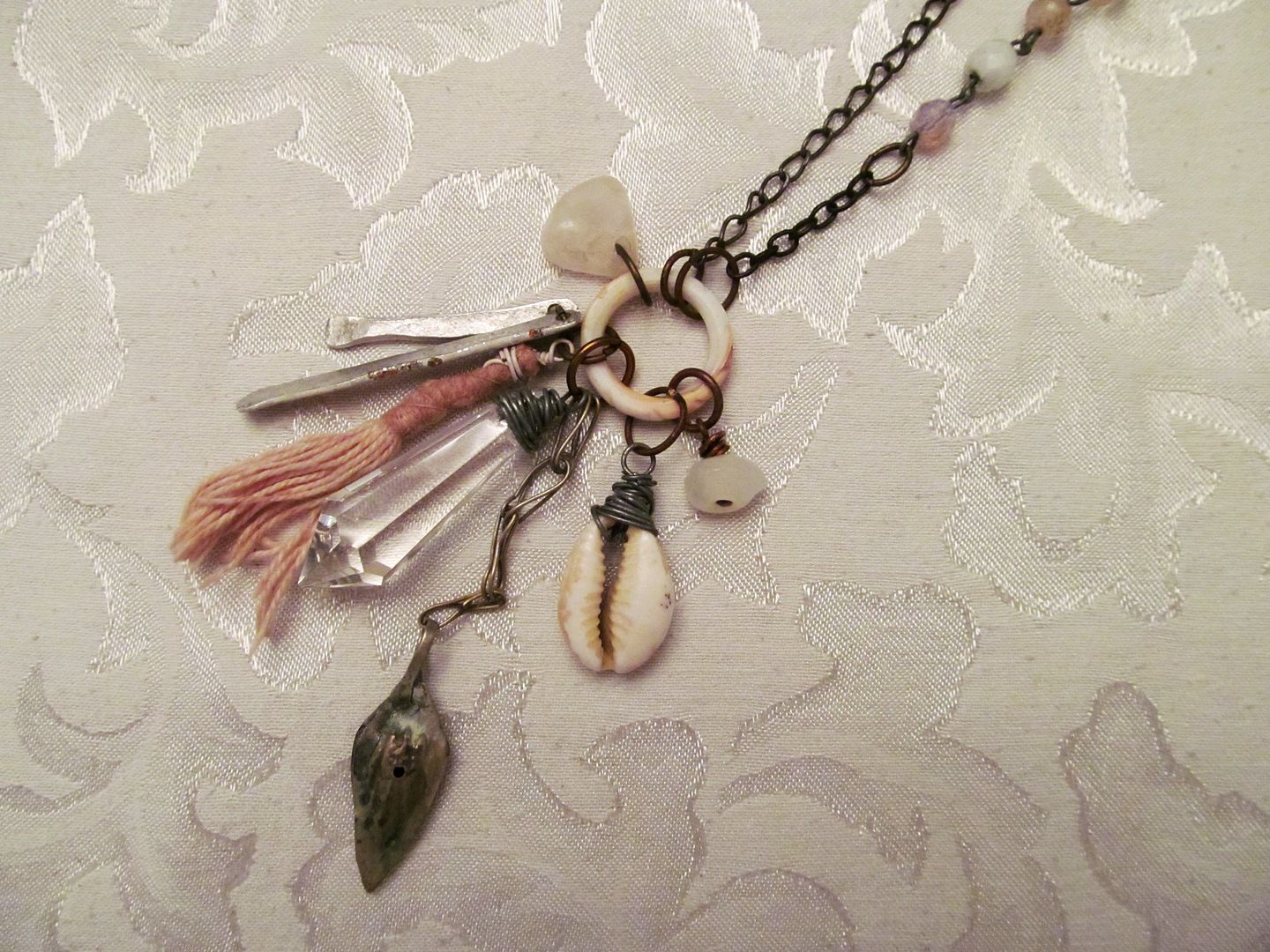 Now I promised to show you how to craft your own steampunk piece, and this design is one I came up with after seeing so many interesting steampunk cuffs in the art magazines I read. This is also a great project to use up leftover bits of ribbon, beads and an old glove. Here's what you'll need to start:
From left to right: beads, old buttons, ribbon scraps, needle and thread (a beading needle is best), some gear, key or other steampunk charms and an old glove that you can wrap completely around your wrist and have the middle finger and the cuff touching (if you have a thin wrist like me you're probably going to need a child's glove.)
Layer your ribbon scraps over the glove like so until you cover most of the glove's surface. Don't be afraid to lay out your ribbons in different directions; play with them and see what looks interesting. Once you have your ribbons where you want them, pin them in place and sew them to the glove with small basting stitches.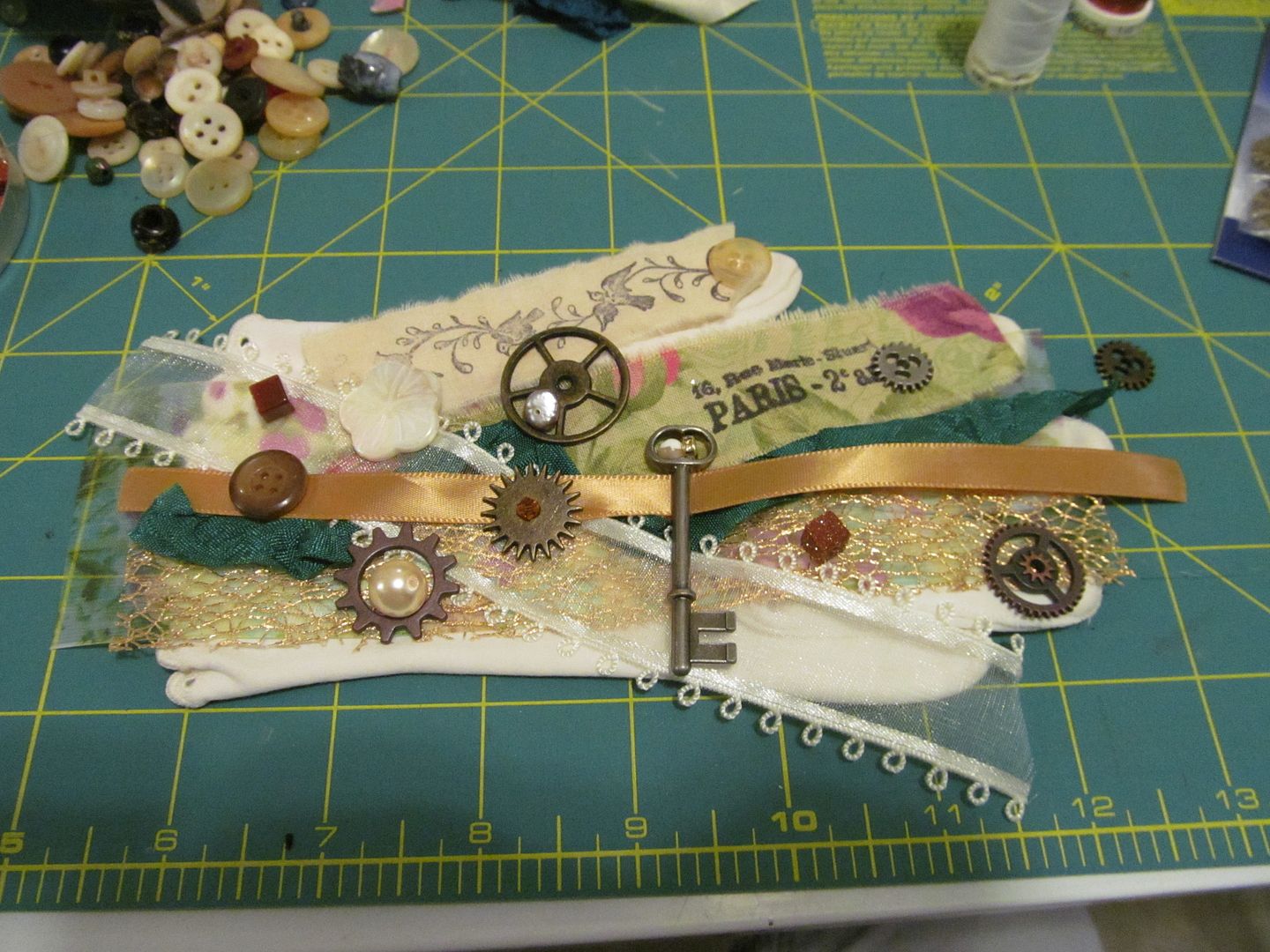 Now take your beads, buttons and steampunk charms and place them to see how you want to embellish the ribbons. You can use as few or as many as you like. Once you know how you want to place your beads and bits, begin sewing them on top of the layered ribbonbs. If you have some other interesting small objects you can sew to the piece, add them on. Here's how mine turned out:
The last thing you have to do is add a fastener set; I recommend sewing them to the center of the glove's cuff and the end of the middle finger of the glove. Remember to place them so the glove fits snugly to your wrist. I used a hook-and-eye set (you can find these in the button section of your local sewing store) but you can also use a jacket frog or a button and a loop.
Remember, you don't have to use as many ribbons or embellishments as I did; go with an amount that looks right to you. Also, if you'd like a narrower cuff you can cut the glove in half or use a strip of thick, sturdy fabric as your cuff foundation.