While we can't go back to the Victorian era, and it would cost a fortune to buy enough antiques and authentic pieces to live exactly as they did, we can still bring a little of their art and style into our homes. We can also interpret and update the Victorian look to suit our tastes and make them fit the needs of our busy lives.
According to
this article
, the four basics of the Victorian look for the home involve color, opulence, pattern and romance -- the more lavish, the better. This may be true of classic Victorian decor, and certainly we've all seen enough fussy sitting rooms and ruffle-swathed vanities at some elderly relative's house to have a pretty good idea of how all that looks: stuffy and outdated. My approach to decor has always been more subtle, as I prefer hints rather than full-scale reproductions that eat entire rooms. Changing a few items to alter a look for seasons or holidays is also much easier than renovating an entire room from floor to ceiling.
Here are some photos from around my house, along with some details on why I chose these particular objects:
This assemblage occupies a corner of my formal dining room, and aside from the fun look it's also a collection of useful objects, too. I often have to sew my larger quilts in the dining room as it has the largest table in the house, so I keep some bobbins, needles, shears and spools of thread in the bottom dark green hatbox. The pink one atop it is actually Her Ladyship's, which I use for my blog giveaways. The antique chair, which I picked up at a quilt show, also comes in handy as an extra seat when we have seven for dinner. The patchwork bear, which I made from some leftover quilt scraps, is a handy toy to lend my youngest visitors.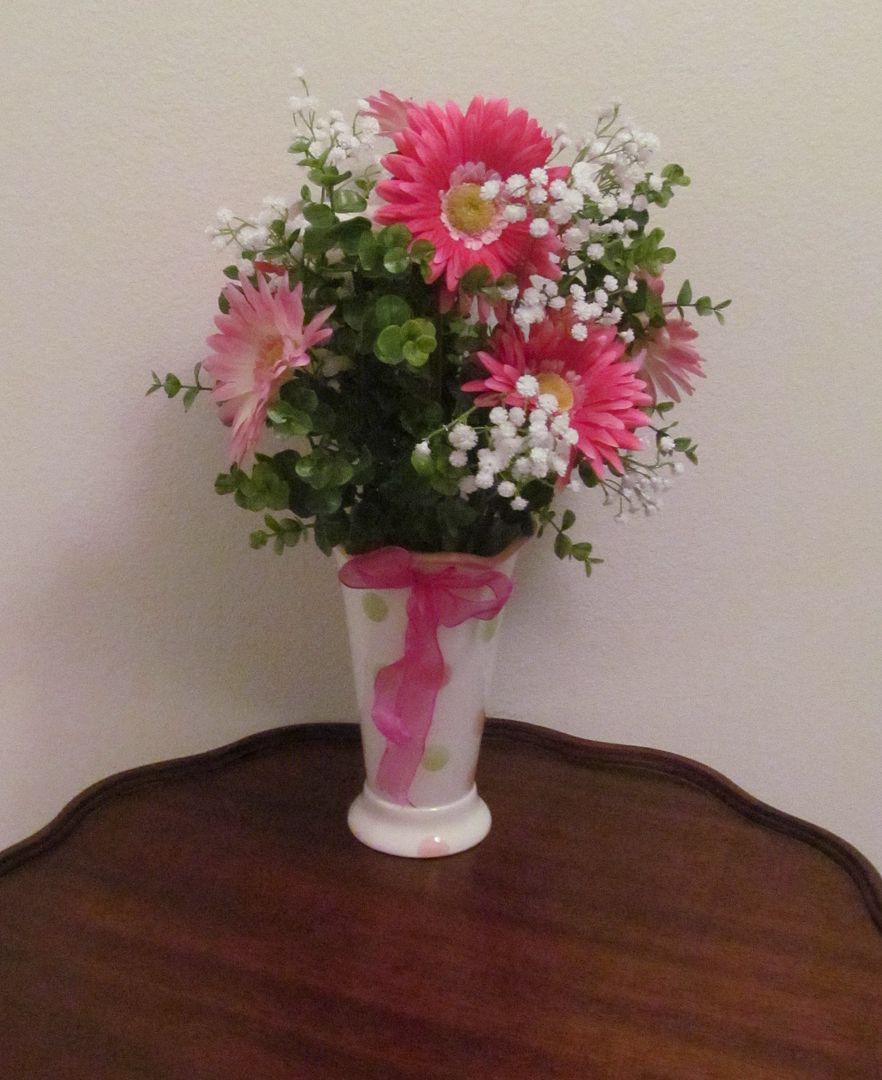 Using a Victorian touch to preserve a memory also adds warmth to a home. For Valentine's Day my guy gave me a pretty vase of pink and white flowers, and after the real flowers faded I replaced them with silk duplicates. Seeing this little arrangement in my front hall adds a nice splash of color to the space, and the association always puts me in a good mood.
This is a night table in our guest room, and I paired this decorative pillar candle with a small hand mirror in an ornate/antiqued stand to add a touch of the romantic, which makes the room more welcoming to visitors.
Even the smallest touch can add a bit of Victorian elegance to an ordinary space. Here I've put a Victorian-styled pen and notepad on a little clipboard next to the phone.
This small key cabinet, which I keep parked on top of my writing desk, has a wonderfully old look that hides a very practical purpose:
Instead of hanging keys inside we use the cabinet to store all the USB backups for our home computers.
Displaying a small group of Victorian-styled objects can form an instant collection, and if you can't find exactly what you want, consider making your own version. Here are three tins I've made using some wonderful inspiration kits purchased from one of my favorite vintage suppliers, Kathy Uhrig, the proprietor of
Strange Notions
on Etsy.com. Kathy is also the artist who made the very sweet sugar-bowl pincushion I featured
with last Saturday's post
.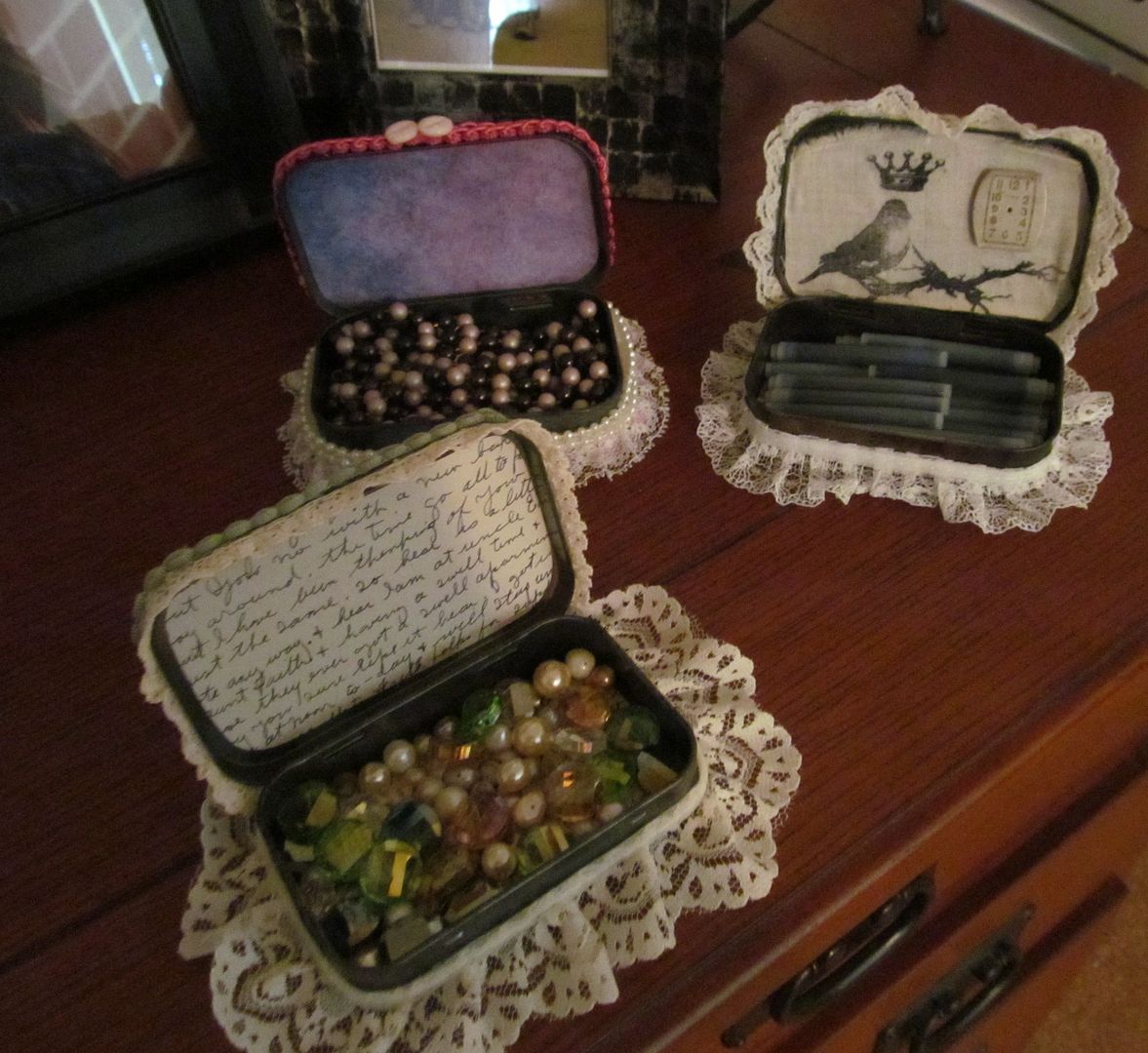 I also use the tins to store an antique pearl necklace, cartridges for one of my fountain pens, and some chandelier beads and freshwater pearls.
Some things to consider when adding Victorian touches to your home:
If you have small children, you will want to put fragile or breakable items well out of their reach. This is especially important with items with glass beading or other features that toddlers might choke on or swallow.
Remember to guard your treasures from interested furry friends, too. I've learned the hard way to keep vintage items out of reach of pets who might be tempted to play with ribbons or chew on corners. We also don't keep any real or fake flowers where the cat can get them because he likes to eat them.
Don't be afraid to experiment with colors and patterns. While we tend to associate feminine and pastel colors with Victorian decor, bold colors and textures can be just as romantic (and in some cases even more interesting.)
Finally, crafting your own Victorian touches can be a lot of fun. First-timers should try a small project like decorating a hat box, picture frame, vase or old tin with lace, beads, silk flowers, buttons etc. You can also find lots of project ideas online by running a search for Victorian crafts, or checking out some books on Victorian decor at your local library.