As promised today I'm going to show you my Torian market bag design, and teach you how to make your own. Before we get into the project directions I wanted to explain why I settled on this particular design. Needlework wasn't just a feminine hobby for women during the American Victorian era; making clothes, knitting shawls, piecing quilts and even spinning thread and weaving their own cloth was a matter of survival, especially on the frontiers where the nearest dry goods store might be a hundred miles away. Often the only clothes and fabric goods a family owned were hand made by the lady of the house.
Thanks to earlier industrialization in my universe things aren't quite as bad for the women of Rumsen, but the costs involved in the transportation of most household and dressmaking fabrics from textile factories in Britain across the Atlantic and by rail across the Toriana make it very expensive. Recycling and repurposing fabric is especially important for Torians who have limited income, which is 99% of the population.
I think my Torian ladies would make a reversible bag so they could use two smaller pieces of fabric to make it; the result gives them two bags in one (they could also turn it inside out when the outside becomes stained or worn to have a fresh new bag.) The design allows it to be made in virtually any size as well, which is a big plus when all you have to work with are scraps.
Onto my market bag design. This piece is basically made from a rectangle folded like an envelope; here's a paper mockup to give you the general idea:
There is no pattern or complicated stitching involved, although you will have to do a little math. I do recommend that if you want to make this bag on your sewing machine that you use a walking foot to prevent bunching (I did make one bag with a regular foot, but it gets tricky when you're stitching through the bulky layers of the cuff portion.) To avoid busting your needle I also advise using a heavy-duty machine needle (a denim needle is perfect.) The bag can be entirely hand-sewn, too.
The materials you'll need:
Two pieces of prewashed and ironed fabric
(size to be calculated)
One piece of low-loft (thin) batting (size to be calculated)
Sewing thread that matches your fabrics
Needle or sewing machine
Sharp scissors
Straight pins
Fabric marker (i.e. a pencil, tailor's chalk or disappearing ink pen)
Steam iron
Ironing board
As to size of your fabric, calculate it according to this formula:
length of your fabric = bag front + bag back + length of flap + 3/4"
width of your fabric = bag width + 1/2"
This means if you want a bag that is 9" square with a 5-1/4" long flap (these are the dimensions of the one I'm making as an example today) you'll need to cut your fabric to 24" X 9-1/2", as your formulas would be:
Length = 9 + 9 + 5-1/4" + 3/4" (or 24 inches long)
Width = 9 + 1/2" (or 9-1/2 inches wide)
I recommend you make a small bag first for practice purposes, and once you get the hang of the sewing involved then try something larger. You will also need enough fabric to make a strap for your bag (you can make this as long or short as you like; for my example bag I used two strips of 30" X 1-1/2" fabric with 1/4" seams, sewn right sides together down the long sides, turned inside out, pressed and the ends sewn to the finished bag on either side of the flap.)
You can use a scrap piece of batting for your bag as long as it's a half inch to an inch bigger than your fabric on all sides. This is because you're going to sew it right to your fabric and then trim it to the stitch line (this is the quickest way to make the fabric/batting sandwich you need for your bag without basting, fusing or binding.)
The fabrics I'll be using for my example bag are
a red print cotton drapery fabric and a solid cream-colored canvas utility fabric
, primarily because they photograph well. You can use virtually fabric for this project, but I don't recommend silk, organza, lace or anything see-through or flimsy. The sturdier the fabric, the stronger the bag.
Once you've worked out the math for the size bag you want to make, cut your two fabrics in those sizes and place the right sides together (this means the underside of each fabric faces out.) Using a ruler and your fabric marker,
draw straight lines on the wrong side of the lightest fabric
1/4" from each of the longest sides, 1/4" from one of the shorter ends and 1/2" from the other short end. The 1/4" lines are your sewing lines. You do not sew the 1/2" line until you've finished sewing together the rest of the bag; that end of your fabrics has to stay open so you can turn the piece inside-out.
Place both fabrics on top of your batting (the line-marked fabric should be on top) so that a little of the batting extends out on all sides and
pin all three together
.
You also need to mark your fold lines. For my bag, that means marking 5-1/4" from the 1/4 line on the short end for the flap fold, and 9" from the 1/2" line on the other short end for the bag bottom fold.
So that you can see which end of the bag is the flap (and because I like a flap with rounded edges) I'm going
to mark
and sew two
curves
on that end of the piece. You don't have to make these curves; you can leave them squared and your flap will have square corners.
Now it's time to sew. I'm using red thread on my bag so you can see the stitching I do. Starting at the turning end of the piece, stitch from where the 1/2" line intersects with the 1/4" line, all around the piece, removing your pins as you go. Stop when you reach the opposite side of the 1/2" line where it meets the 1/4" line on that side of the piece.
With your scissors trim all the edges of your batting as close to the stitch line as possible,
like this
. Also clip your flap's curves or your corners
like this
to prevent bunching.
Your stitching should look like a three-sided rectangle with an open top or the letter U, depending on if your flap is cornered or curved.
Now turn the piece inside out and press it flat with an iron
. Once you have pressed it,
turn the bottom of the piece inside out
like a sock cuff
to the line you marked for the bag fold
. Press the piece again to flatten it out.
Mark another line 1/4" inside your stitched lines on either side of the cuffed end of the piece, and
sew a straight seam
up to the 1/2" line
on both sides
. This creates the inner hidden seam and makes the bag reversible.
Turn your cuffed portion inside out, and then turn the bottom of the bag inside out. As you do your piece should look like this: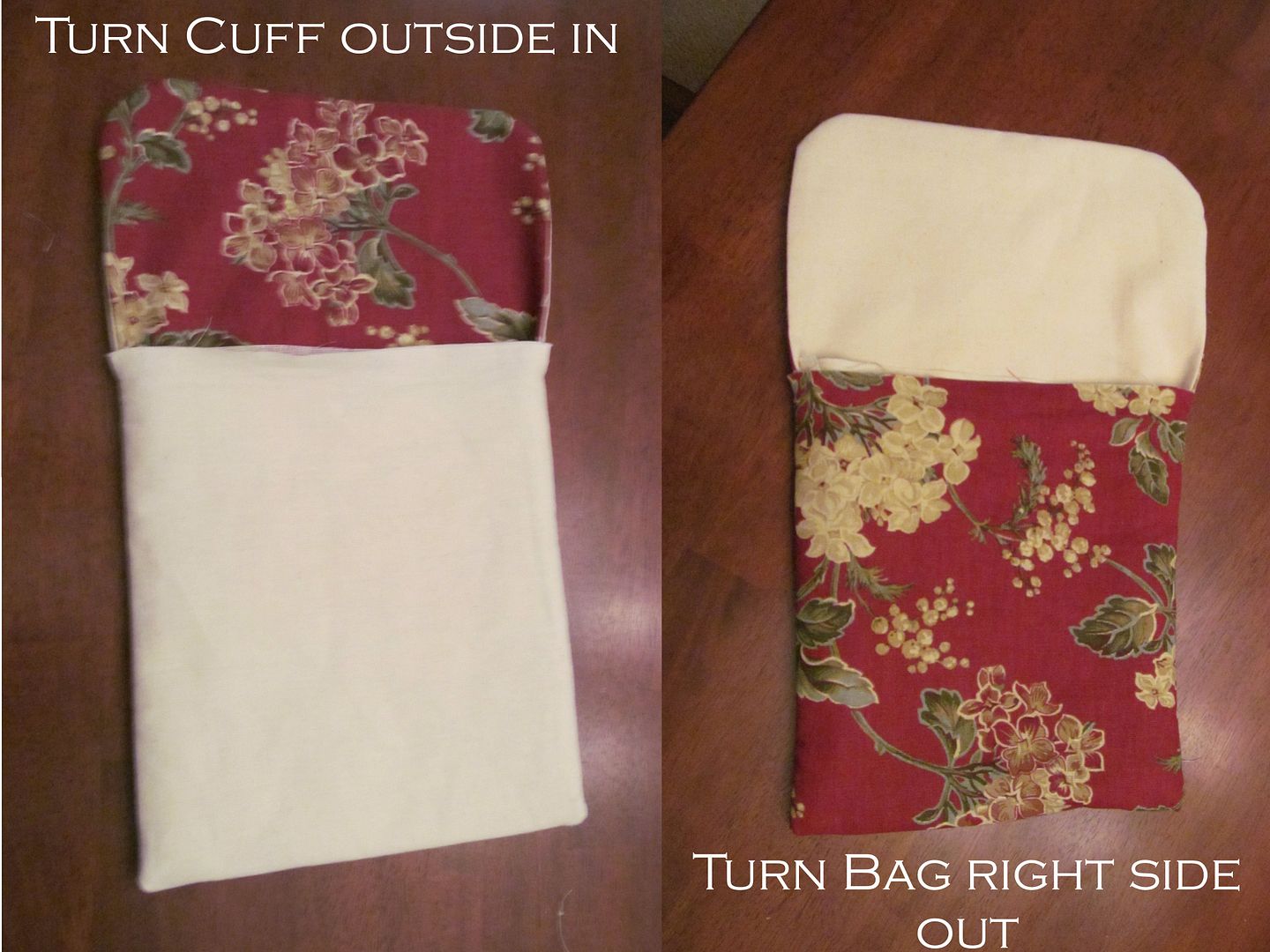 Now it's time
to sew closed the 1/2" seam you've used for turning the piece
. Fold the raw edges down inside and blind stitch them together or run a straight stitch across them on your machine. Press your bag, make your bag strap, attach it to the sides and you're done.
As to how you can adapt this design, here are some bags that I've already made alongside the example bag, to give you an idea of the different sizes:
Some final notes on the project:
1. Quilting it -- you can quilt through the layers of the flap and the back portion of the bag while the piece is flat (right before you sew the cuff portion) but don't quilt the portion to be cuffed until after you've assembled the bag or you won't be able to turn it.
2. Closures: You can install a zipper at the top of the inner pocket once the bag is assembled, but remember to size the width of your bag to match the length of the zipper. If you want an easy reversible closure on the flap, the easiest is probably an elastic loop sewn in the center of the flap and two buttons sewn on the outside and inside of the front pocket. You can also use a frog, Velcro, or a hook and eye closure on the flap and front pocket if you aren't going to use the bag as a reversible.
3. Skipping the batting: If you're not into quilting, buy a piece of pre-quilted fabric or use a cutter quilt piece, match it with a fabric for lining and you can skip the batting.
4. Stabilizers other than batting: I haven't had a chance yet to experiment with interfacing or fusible web, but I do have some and I plan to make a couple bags with those to see how I can make it work. Those of you who are more experienced with these materials can probably figure it out, too.
5. Patchwork: You'll notice that a couple of my bags have stripes and one is made from log-cabin blocks; I made these by using patchwork for the outer fabric (the log cabin bag is simply two 12" blocks sewn end-to-end.)
6. Trimming and Embellishment: as with the quilting, if you want to add trims, beading or other embellishments to your bag you can do so to the flap and back portion of the bag before you assemble it. Save any embellishment of the cuffed portion until after you've sewn it in place.
7. Terms of Design Use: There are none; I'm making this design free for anyone to use for any purpose they want; if you want to sell the bags you make go right ahead. Also feel free to adapt and improve the design however you like (I love to hear about what others do with my designs so please send me an e-mail and pics if you'd like to share ideas.) If you want to give me credit for the design or link back to this post, that would be nice but it's neither expected or required. Have fun with this.