Much of the Victorian era predates film, but classic works of literature began inspiring movies
as early as 1901
. In the 100+ years since dozens of films have been made based on either works by Victorian-era writers or the Victorian era itself; for the latter Eras of Elegance has
a comprehensive list of titles here
.
Movies and shows set in the Victorian era didn't interest me at all when I was a kid, and as a young adult I was much more into mysteries and SF shows.
Merchant & Ivory films
, which were very popular in the eighties, seemed pretty depressing (to this day I can't bring myself to watch
Howard's End
again, which I think was very well done but one of the saddest movies I've ever seen.)
I think it was my weird love of Jane Austen's
Pride & Prejudice
, however, convinced me to watch an A&E mini-series production of the novel in 1995. The previews looked gorgeous, and I was curious about how faithful to the book the show would be. It was an accidentally wonderful choice that I was finally mature enough to appreciate. Since then I've been building a modest collection of Victorian-era movies and series to watch when the modern world gets a bit too much to handle.
Jane Austen's works own a large chunk of my collection, and I have multiple productions of the same stories. A&E's
Pride & Prejudice
mini-series will always be my first film love, I think, but I also liked the Spotlight Series movie with Matthew Macfadyen and Keira Knightley, which was not as faithful to the book but beautifully interpreted and filmed. I watch both of these often for different reasons.
Sense & Sensibility
claims the #2 spot, and it's another toss-up between the Emma Thompson version and the Andrew Davies adaptation for BBC; both I like for different reasons. As for
Emma
, my least favorite of Austen's works, the Gwyneth Paltrow version is more popular but I actually prefer the BBC production with Romola Garai and the highly unlikely casting of Johnnie Lee Miller as Mr. Knightly.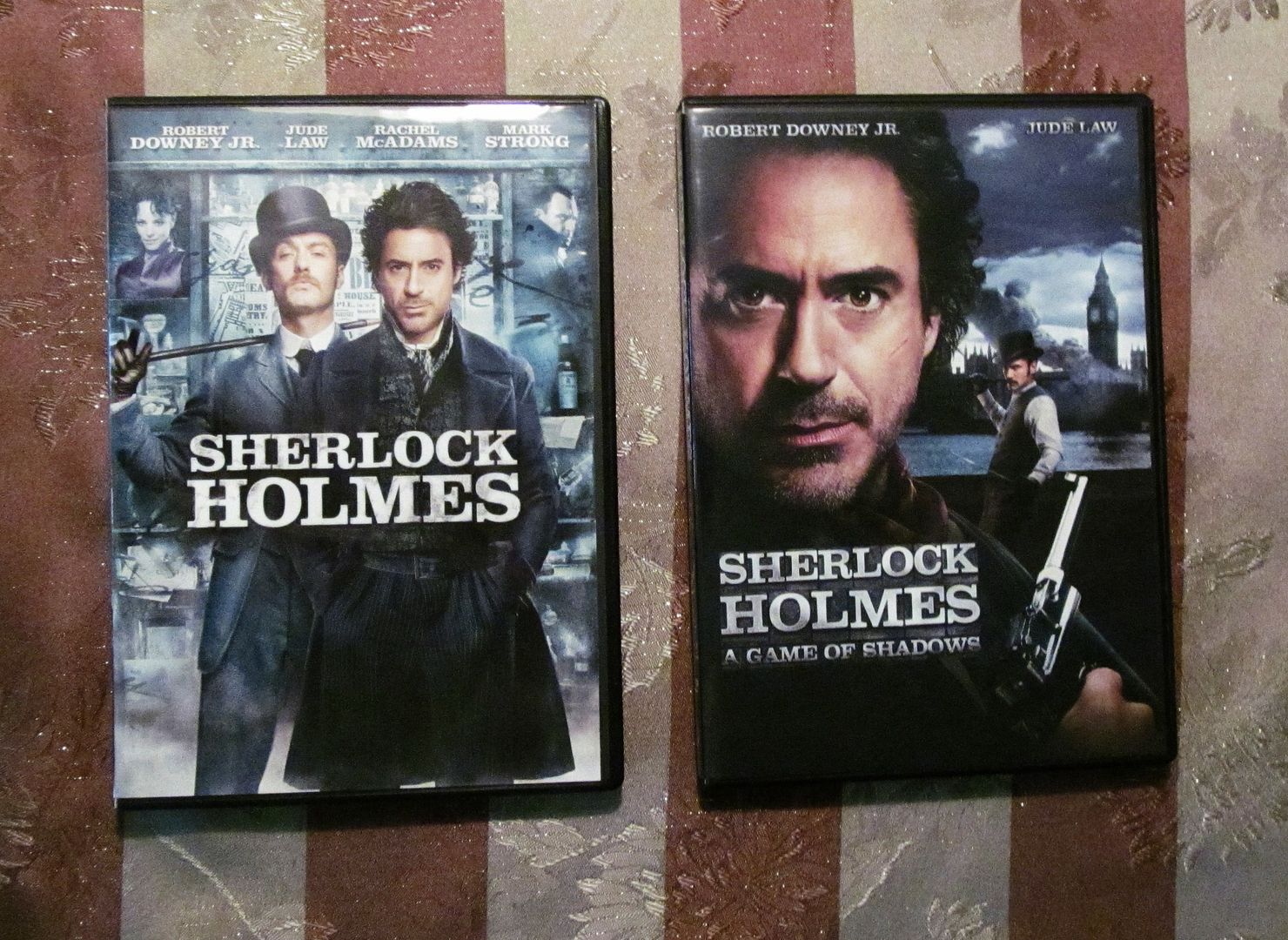 We don't usually think of the Victorian era spawning great action-adventure heroes, or at least we didn't until Robert Downey Jr. began making his Sherlock Holmes movies. These are great fun and definitely guy-friendly, and prove that not all Victorian-era films are sedate period pieces. One note for Mr. Holmes lovers: the BBC has been producing a marvelous modern-day version of the great detective called
Sherlock
, which stars Benedict Cumberbatch as Sherlock Holmes and Martin Freeman as Dr. John Watson; I love this series so much I buy extra copies of each season so I can share the love with friends.
Some films I include in my collection aren't strictly Victorian-era, but I still consider them excellent movies for people who enjoy the period.
A Room with a View
, one of the few Merchant & Ivory films I liked, is an Edwardian-era drama based on a book written in 1908 by E.M. Forster; naturally it has a more modern look than Victorian dramas but it captures the same atmosphere of restraint, elegance and unexpected passion. I thought Colin Firth gave an academy award-winning performance alongside Geoffrey Rush (who actually won it) in
The King's Speech
, which is set just before the beginning of World War II. This movie may have missed the Victorian era by a handful of years but is a terrific, harrowing look at the life of a reluctant king struggling with a minor but mortifying disability that affects his whole life.
Master and Commander ~ The Far Side of the World
predates the Victorian era by depicting life on an early nineteenth-century English warship, but is as exciting as Downey's Sherlock Holmes movies. I really loved the attention to details in this movie; Russell Crowe is entirely gorgeous and convincing as Captain Jack Aubrey, but it's Paul Bettany's brilliant performance as the ship's doctor that makes the whole film.
Some Victorian-era films and series have been problematic for me for different reasons. I recently watched the
Cranford
and
Return to Cranford
, which Judi Dench made a lot of fun -- that lady is a chameleon of an actor; I think she can play anyone. The problem for me was my favorite characters kept dying from beginning to the very end. For similar reasons I have yet to finish watching
Berkley Square
, another dramatic series about English nannies that also doesn't quite fit because it takes place during the Edwardian era. This one has story lines that are equally absorbing and terrifying; you might think the lives of nannies are dull but in this production they'll have you biting your nails or holding your breath until you turn blue. Given the current popularity of
Downtown Abbey
I hesitate to say anything negative, but the way Season 3 ended broke my heart. I love the characters, and the fact that they're not using all pretty/perfect people in the casting (the Bates are amazing.) I know the reasons why Season 3 ended the way it did, and no doubt it was a necessity. That said, I just don't know if my heart can take anymore.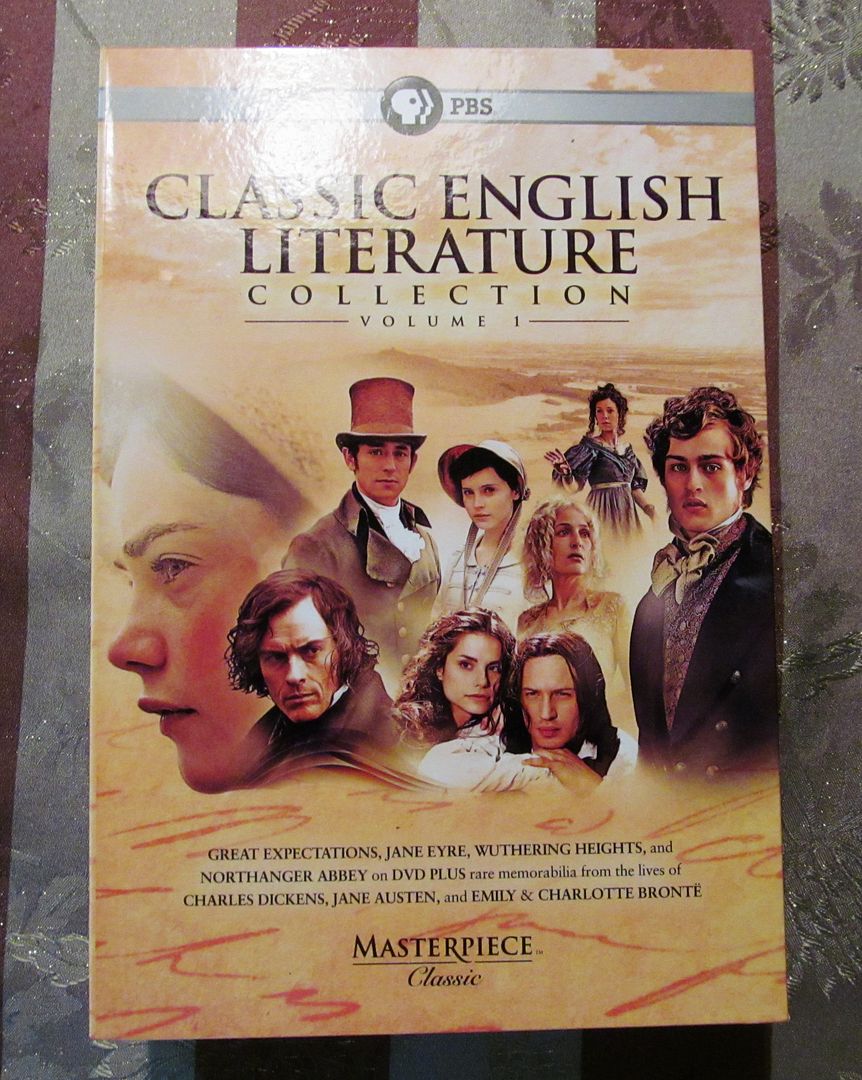 My most recent addition to my Victorian film collection was this boxed set of PBS Masterpiece Theater movies, and I bought it mainly because it included productions of
Jane Eyre
and
Northanger Abbey
that I'd never watched (and both were quite good.) It also convinced me to finally give up my lifelong dodge of
Wuthering Heights
and watch that in film, and while as I expected the story annoyed me to no end, I thought Tom Hardy was excellent in his role as Heathcliff. Now all I have to do is tackle Dickens'
Great Expectations
, another story I've been avoiding my entire life, maybe sometime this summer.
I know many Victorian lovers demand accurate details in films set in the era, or that the movies are completely faithful to the novels written during that time. I think it depends on what you want from a film or series; great characterization and an interesting performance is more important to me than the proper length of someone's gloves or who has the correct hairstyle. I also like stories that transcend the period to be relevant to me in my era; I think that's why
Pride & Prejudice
has endured as long as it has. We may have all the modern conveniences and gadgetry coming out of our ears, but the choices in life that we have to make as men and women haven't really changed all that much. Somehow Jane tapped into some universal wisdom about relationships and family and how they shape us (and we them), and all these years later she's still handing out very wise advice. I think that's what makes the best Victorian film; that in some way we can still relate to the characters being portrayed in them.
If tomorrow someone walked up and offered to make a movie based on Disenchanted & Co., I'd probably have a small heart attack. But after I recovered, I'd ask if I could have some input as to the casting, as I've already put together a dreamcast of the characters in my head. To see who I would put in what role, click on the links below:
Charmian Kittredge
Lady Diana Walsh
Lucien Dredmore
Harry
Thomas Doyle
Lord Nolan Walsh
Docket
Carina Eagle
Hedger
Do you have a favorite Victorian-era film or series you'd like to share? Let us know in comments.