Before I open Her Ladyship's sketchbook I have some giveaway winners to announce (and I apologize for neglecting to post the winner from last week; I thought I had but it turns out I completely forgot.)
The winner of the Wednesday World-building Q&A giveaway surprise is:
bluebamboo
The correct solution to June's puzzle poem is "star", which everyone guessed, so I drew one name at random from everyone who participated, and the winner of the Jane Austen posh puzzle book is:
Anonymous
, who wrote
Star---LIV
on June 17, 2013 at 10:41 AM
Winners, when you have a chance please send your full name and ship-to address to LynnViehl@aol.com so I can get your prizes out to you. My thanks to everyone for joining in.
I have two sketches to show you this week, and both are for accessory-type gadgets used by well-to-do Torian gentlemen and ladies when they're out and about. The first is a pair of goggles, which men wear while motoring about in their carri (a steam-driven horseless carriage):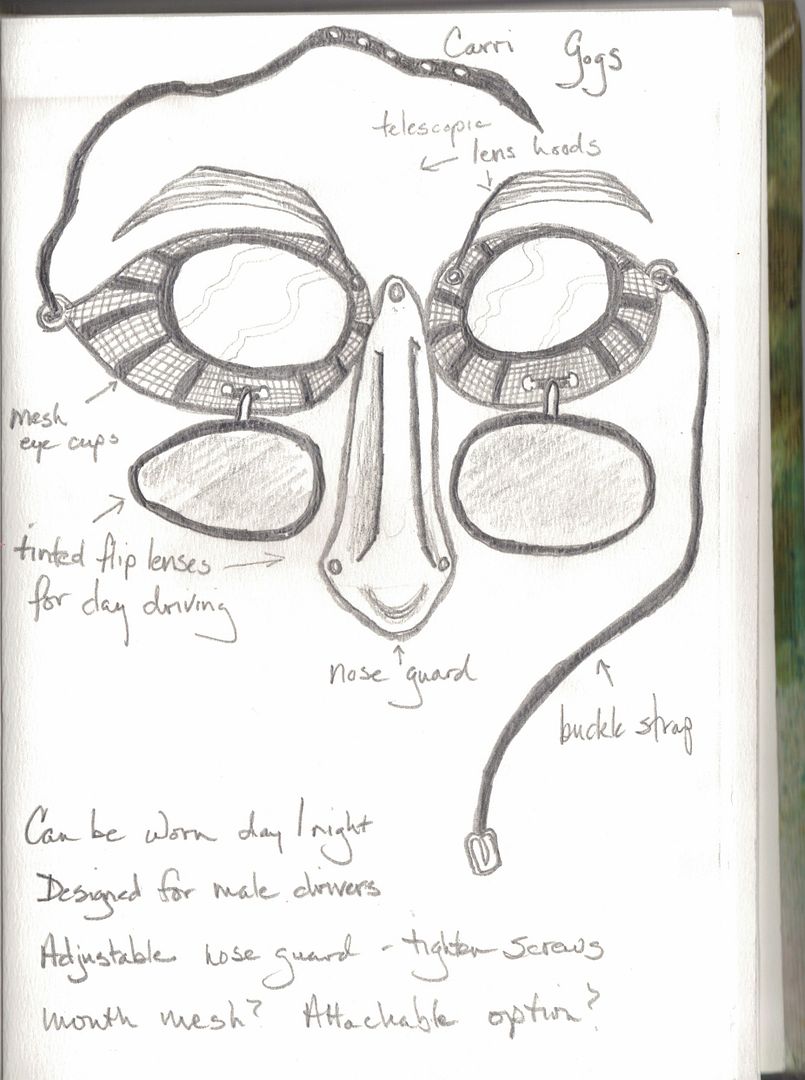 I based this sketch on a real pair of antique driving glasses and then tinkered with the design to suit my universe's needs. Because gentlemen drive both day and night I decided to incorporate two types of lenses, with clear glass at the top and flip-up darker lens for day driving. The mesh eye cups further protect the eyes from any debris, as does nose guard, and the lens hoods can be pulled out to shield the lens from rain and snow. I considered adding some sort of mouth guard, too, but I think my guys can remember to keep their mouths shut while driving.
For the ladies I designed a keylace glove, which is a more genteel version of the simple length of key-holding ribbon or lace common women wear around their wrists:
Carrying the keys to one's home close at hand is something nearly all Torian women do whether they have servants or not, and this habit is more than a tradition. During the early years of settlement when the colonists and the natives were at war, Torian women were often left to defend the household while their men were forced to fight alongside the militia. Often the ability to get inside the home quickly and lock a door against an intruder meant the difference between life and death for a woman -- and during an attack on the settlement, the entire household.
A Torian lady may also have more than her own house key tucked away in her glove; when indulging in an illicit affair a married woman will meet her paramour at discreet, short-term lodgings which he procures as their love nest, where she will let herself in with the key he provides for her. I haven't quite decided where the lady hides her keys (possibly an inner pocket in the glove itself) so I'm going to collect some orphaned gloves from my vintage bits bag and see if I can turn the sketch into a real-world version. I'll be sure to post pics of the results if I can make it work, too.