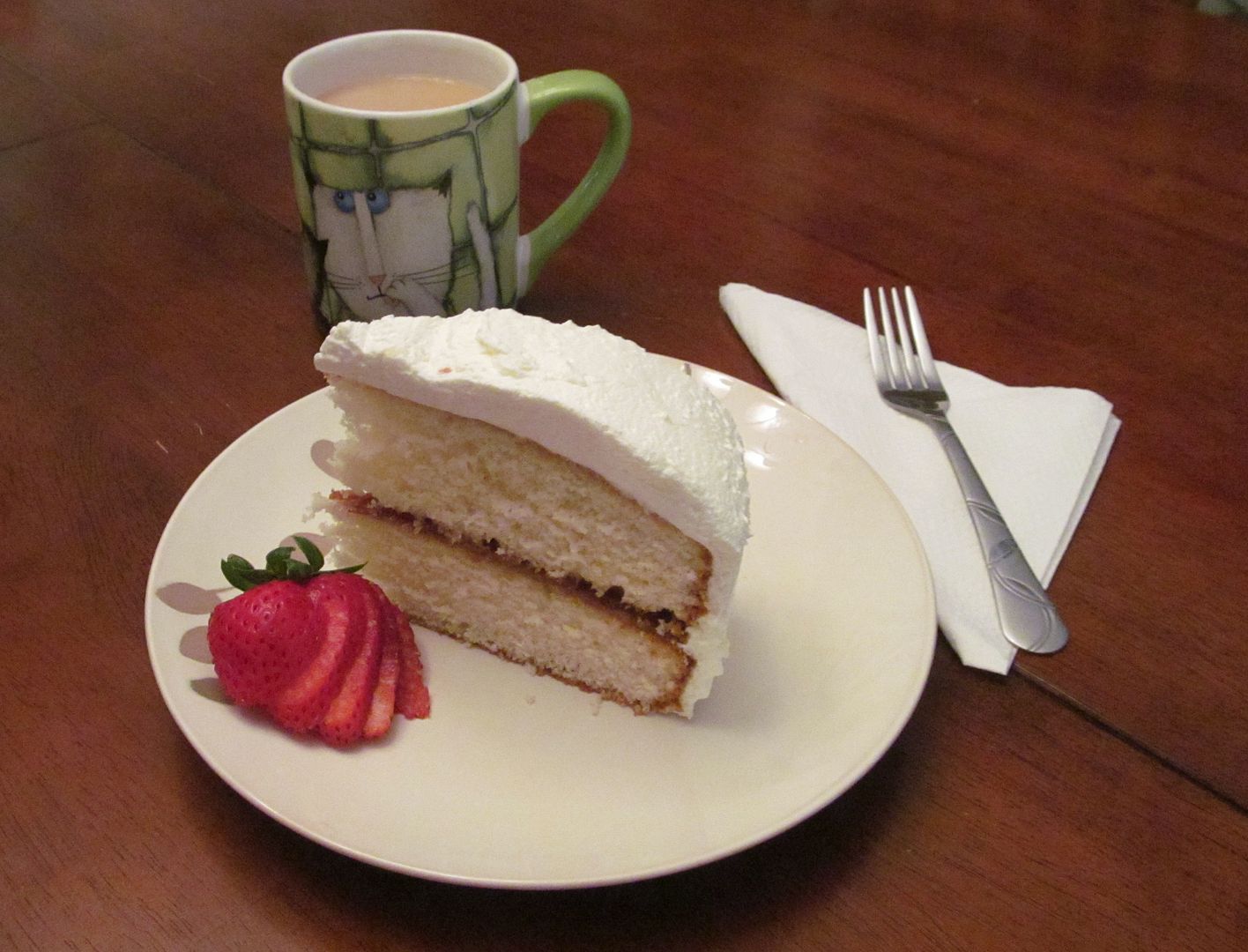 My mom always baked our birthday and special event cakes from scratch. She has one cake she makes called Starlight that is so good it gets eaten in one day. She baked her own cakes probably to save money, as it was cheaper than buying one from the bakery, but my mom is a fabulous baker, and we never complained.
I learned to bake cakes from scratch when I was in elementary school, and I still prefer them because a) they bring back memories of Mom's wonderful cakes and b) while boxed cake mixes are convenient, after a lifetime of having homemade they taste funny to me. I've also been gradually working up to creating my own recipes, although I still rely heavily on cookbooks for the basics and build on those.
Now we come to the reason why I created my tea cake. I have a daughter who is the only child I know in existence who hates icing. Doesn't matter what kind or flavor, she won't eat it (and whenever I make cupcakes I always leave a half-dozen plain just for her.) We mainly opted out for ice cream cakes for her birthdays or special events, but I always wanted to come up with a cake icing she would like. When I had to give up sugar last year this added an extra incentive because now I can't eat icing anymore.
I got the general idea for this cake from a tea room excursion, during which we tried their variation on a Queen Victoria sponge cake: a two-layer angel-food type cake spread with some sort of fruit preserves (I think raspberry) in the center and sparingly topped with a bit of sprinkled powdered sugar. My daughter loved it, and I thought this might be an answer to our mutual dilemma.
I still wanted icing, however, because to me a cake looks naked without it. Then I thought of a dessert my daughter loves almost as much as plain cake: fresh strawberries and real whipped cream. I could ice the cake with whipped cream and serve it with fresh strawberries . . . and that's how I came up with this recipe, which everyone including Miss No-Icing loved.
Lynn's Strawberry and Cream Tea Cake
Cake Ingredients:

2 cups all-purpose flour
1-1/2 cups sugar
1/2 cup butter (softened)
1 cup milk
3-1/2 teaspoons baking powder
1 teaspoon salt
1 teaspoon vanilla
3 eggs
Heat your oven to 350F. Grease and flour two round 8" or 9-1/2" cake pans. Beat all the ingredients in a large mixing bown on low speed, scraping the sides of the bowl constantly, for 30 seconds. Beat on high speed, scraping the sides frequently, for 3 minutes. Divide batter equally between both pans. Bake 30-35 minutes until golden brown on top and a toothpick inserted in the center comes out clean. Allow cake to cool completely before icing.
Filling Ingredients:

3-1/2 oz. (about a third of a 10 oz. jar) Smuckers Seedless Strawberry Simply Spreadable Fruit (or your favorite strawberry jam or preserves)
Invert one of the cooled cakes on a plate or cake stand. Cover the top of cake with filling. Place second cake on top.
Icing Ingredients:

1 pint heavy whipping cream
1/3 cup powdered sugar
fresh, thinly-sliced strawberries
Chill your mixing bowl in your freezer for about 5 minutes. Combine cream and powdered sugar in bowl and whip together at high speed until cream is at a spreadable texture (about 3-5 minutes.) Ice cake with whipped cream. Garnish with sliced strawberries (I serve mine in a separate bowl so everyone can add as much as they want.)
For some fun variations, try this recipe with some different fruits and preserves -- peaches, apricots, plums, blueberries or any fruit that goes with cream should work.