Using old documents, periodicals and even packaging from a particular era in recent history can provide you with a wealth of world-building materials. I say recent because any era that predates the printing press was recorded by hand in forms that are much more difficult to find and far too expensive too collect, although you can smetimes find some modern transcriptions of these ancient documents, scrolls, clay tablet and so forth online or in nonfiction books written about that particular era.
Over the years I've been building a small, modest collection of Victorian era books, newspapers, magazines and other printed matter. None of what I own is in mint condition or worth more than a few bucks; I've been more interested in content. One page from a 1870 newspaper provides an instant snapshot of life in that time, especially as to what people wanted to read, buy, and communicate to each other. Advertising was still as deceptive as it is today (just not as clever about it) and medicine, which was still in its infancy, was rife with as many quacks as visionaries. Businesses wanted to make money, consumers wanted to be attractive, healthy and successful, and everyone wanted interesting content.
Advertising and
packaging
from historic eras may not seem as reliable as a court document or legal notice, but you can pick up some good ideas from these as well. Here are a couple of ad placards for a carpenter and builder: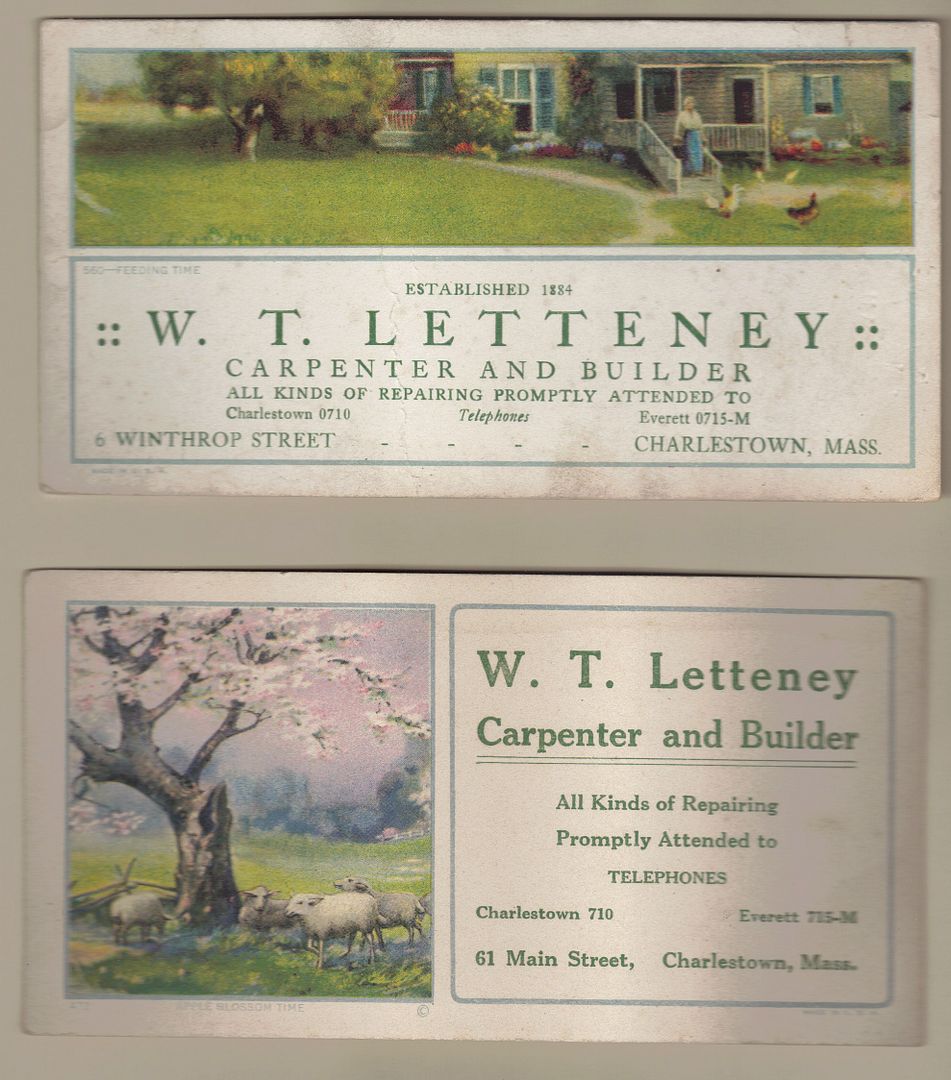 Mr. Letteney, whose business was established in 1884, was probably a successful carpenter and builder; for one thing he could afford to advertise with lovely color illustrations of country life on his placards. He also had not one but two telephones, which makes me suspect he might be a son or grandson of the business's founder; my best guess is he made up these ads sometime around the turn of the century. These are the sort of ads that would catch a woman's eye; the idyllic illustrations + the slogan of "all kinds of repairing promptly attended to" seem like choices made deliberately to appeal to the ladies (who were making a lot of the household decisions during WWI, when most of the men were off fighting). In particular these ads helped me think about how Torian advertising would be slanted, as men maintain complete control of the family's finances and make almost 100% of the household buying decisions.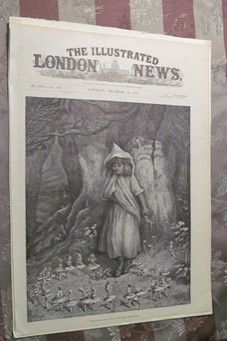 I bought this original front page of the Decemeber 28th, 1889 edition of
Illustrated London News
for the lovely original print of Kate Greenaway's
The Fairy Ring
. When I removed it from its cardboard holder to frame it I discovered
the back of the page
is covered with short articles on politics, agriculture, language, art, and even a full report on Queen Victoria's court. Americans -- referred to as "our Transatlantic cousins" -- are ridiculed not once but twice, and
women are likewise bashed for their apparent lack of respect for the hazards of fire and flammable clothing.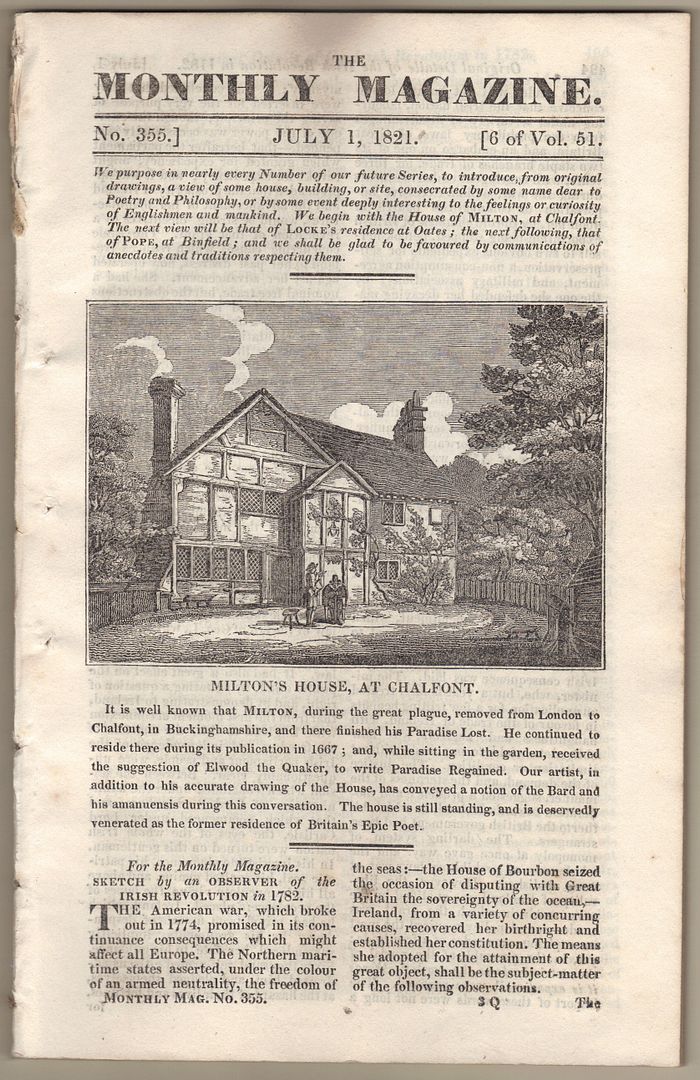 Probably the most valuable print resource I've found to date is an original edition of July 1st, 1821 issue of
The Monthly Magazine
, a 100-page English periodical that has no cover but is otherwise completely intact. This little magazine contains so much information and so many valuable resources I'm still learning new things every time I read it. Among the treasures printed in this publication are several detailed letters from an Englishman who emigrated to America, indepth commentary on conflicts with the Irish, observations on cultivating land, analyses on Middle Eastern culture, the French revolution and Italian literature, the sad state of Northern Wales, a review of Lord Byron's latest poetry, how much it cost one parish to look after its poor and its prisoners, a biography of one of Prince George's lovers, an indepth description of the life and household of an eccentric lady, the account of two enormous spiders drinking the oil from lamps in churchs in Paris and Milan . . . and that's just thirty pages. There are listings of notable marriages and deaths from every county in England, commercial reports, meteorological reports, agricultural reports, medical reports, bankruptcy notices, articles on art and sculpture and chemistry and philosophy -- for such a little magazine it's like a treasure chest of data that never empties.
Let me share with you just one of the obituary notices, written about John Baker Holroyd, the first Earl of Sheffield:
"The
Earl of Sheffield
, who closed an active life at his house in Portland-place in his 86th year. His son Viscount Pevensey succeeds to the title and estates. Lord S. when Col. Holroyd, and M.P. for Coventry, resisted Lord G. Gordon's mob, in their attempt to force a passage into the House of Commons. The Colonel, with his drawn sword, placed himself in the doorway, and told Lord G. that if any offered to enter, he would run him (Lord G.) through the body. This had the desired effect."
Here's also notice for a Yorkshire woman who got married, but then . . .
Married
] "At Ripley, Mr. J. Houseman, of Clint, to Miss M. Mills. The bride soon after was seized with apoplexy, and after lingering some hours, closed her earthly pilgrimage."
It seems like Miss Mills -- or rather, Mrs. Houseman -- was the ultimate runaway bride. I don't think I've ever read a marriage notice that ended with an obituary, either.
When you hunt for historic material, consider first what you really need for your story. Are you interested in gathering authentic names? Any census material is pure gold, as are obituaries, marriage notices, military or criminal records. Many families would keep records in the household Bible, which are sometimes donated to and preserved by local churches. Does your story need news items from the era? Newspapers are excellent sources, but so are magazines, letters, postcards and diaries (and personal/handwritten documents are regularly sold, sometimes in bulk, at online auction sites, especially letters.)
Online you can find sites on both sides of the pond that provide scanned copies of different documents from various eras, too. For example,
the UK's National Archive web site
has 1000 years of British government records, and
Penn Libraries
maintains an enormous virtual collection of historic American newspapers (and just this month our own National Archives launched
the Founders Online web site
in order to make the founding father's documents available to anyone who wants a look back at what Washington, Jefferson, Franklin and the other revolutionaries were up to.)