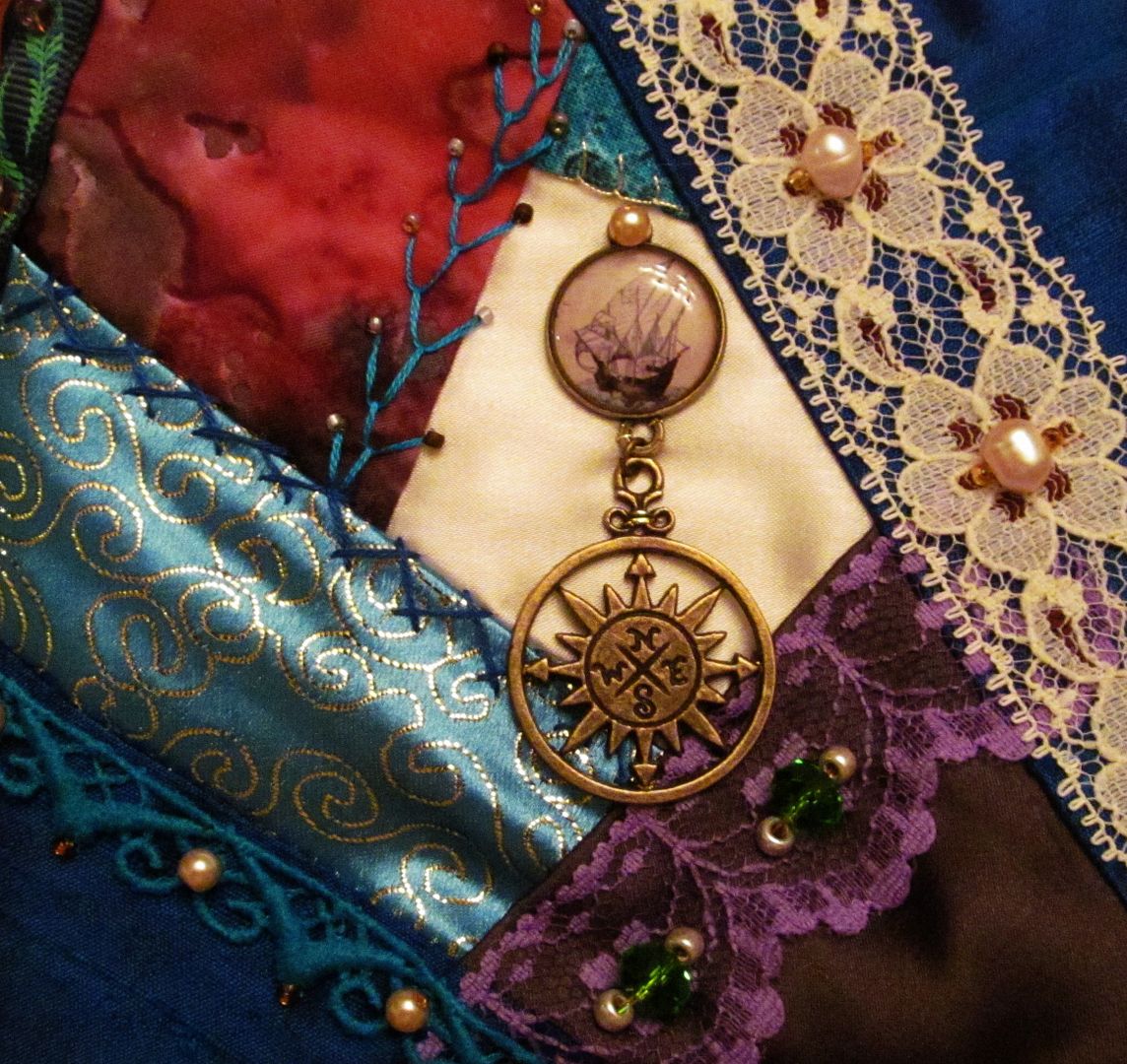 During the Victorian era ladies did a lot of hand-sewing and embroidery, and keeping track of their sewing needles was a daily necessity. Needles were expensive, so it was also important to keep them from rusting or disappearing into a pincushion. For these reasons women used various types of cases to store their needles. They also made their own, often to show off their embroidery skills.
Today I'm going to show you how you can make your own crazy-quilt style needlebook. This design, which I adapted from a pattern Ena Flynn published in the premiere issue of
Quilting Arts
, is a small project that takes only a couple of hours to make; it's also a great way to use up scraps of pretty fabric you might otherwise throw away. You can also customize the size of the needlebook to suit your needs.
For the project you'll need:
1. A piece of thin muslin or cotton to serve as your foundation. Folded in half it should equal the size of your needlebook + 1/2", so if you want to make a 5" square needlebook your foundation piece should measure 5-1/2" X 10-1/2"
2. A piece of white or black felt for the lining, cut to the same size as your foundation
3. Various scraps of pretty fabric in the colors of your choice
4. Various scraps of lace and ribbon
5. Beads (optional)
6. Embroidery floss (optional)
7. A sewing machine or needle and thread
8. Scissors or rotary cutter
9. A marking pencil, pen or tailor's chalk
10. An old flat pendant (optional)
11. Iron
12. Ironing board or ironing-safe surface
13. Ruler
14. Cutter mat (optional, will need if you use a rotary cutter)
I have example photos of each step, and if you want to see a larger version, click on the photo. What we'll make first is the "cover" of your needlebook, and this piece is worked all at once on both sides, using the
flip and sew method
on both sides, so keep in mind that the right side is your front cover, and the left side is your back cover, and you'll be patching them at the same time.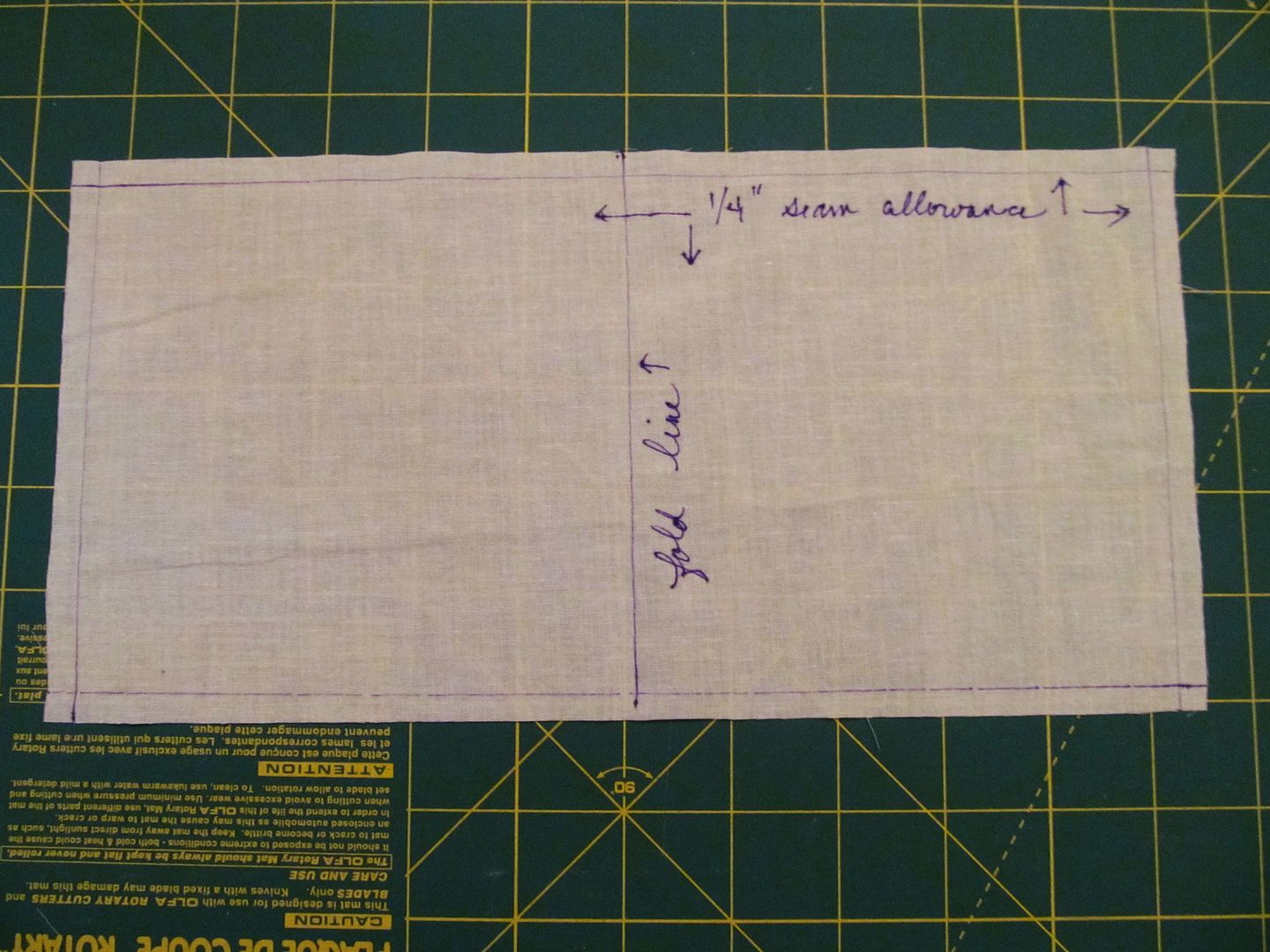 Mark your foundation fabric with a 1/4" seam allowance and a center fold line. None of these lines will show once your needlebook is finished so you can use permanent marker if you like.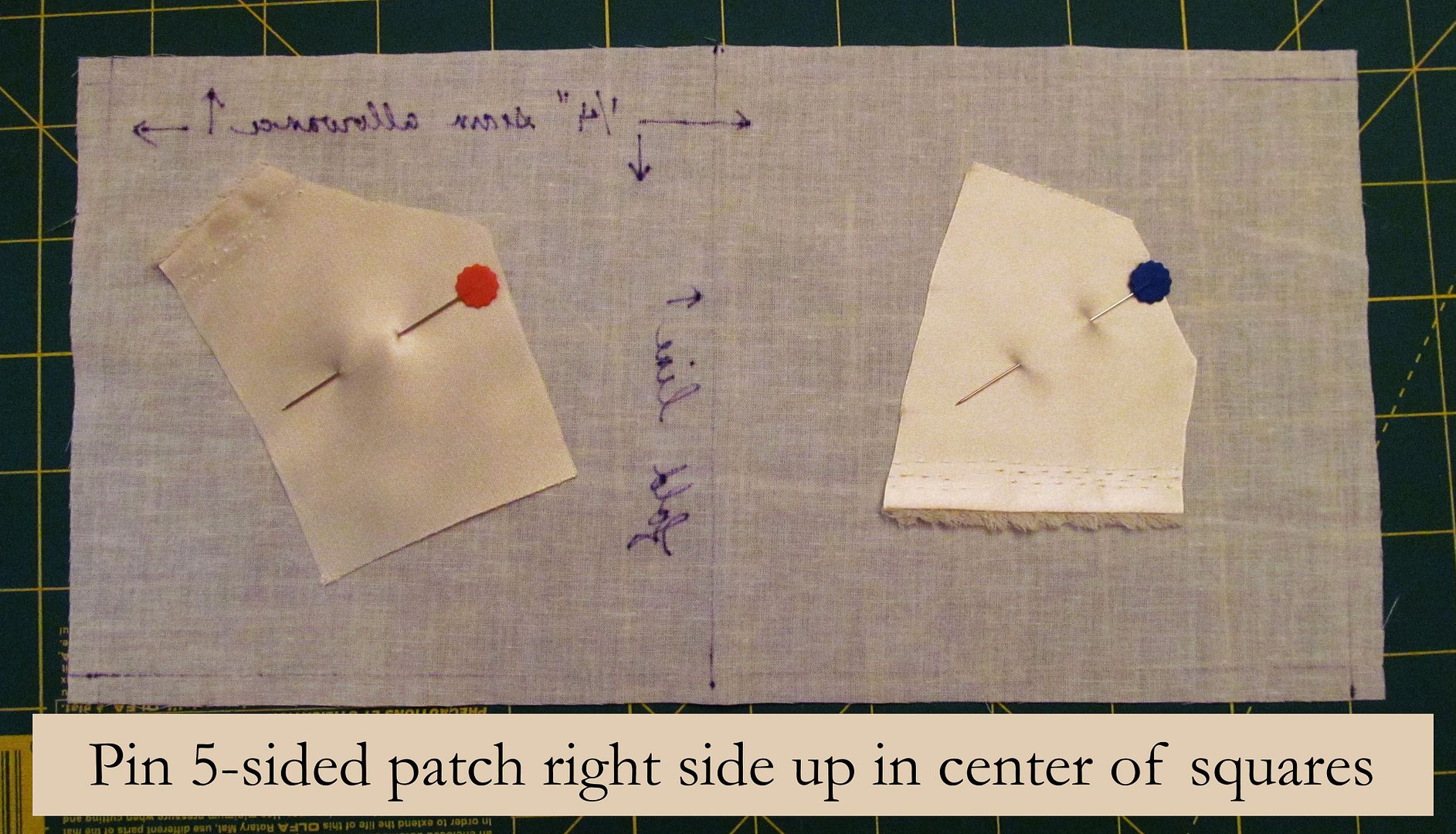 Turn over your foundation so the lines you've drawn face down, and pin a 5-sided patch to the center of each side (and the reason I use a 5-sided patch is that the patchwork will be more visually interesting, but if you want less patchwork you can use a square or triangle for your center patch.)
Now put two patches of different fabric (can be any shape) right side down on top of your two center patches, matching one side of the seams of both patches and pin into place.
Sew your second patches to your center patches along the matched seam. Allow a 1/4" seam allowance for all your patchwork.
Fold out your second patches so that they faces right side up and press flat with your iron.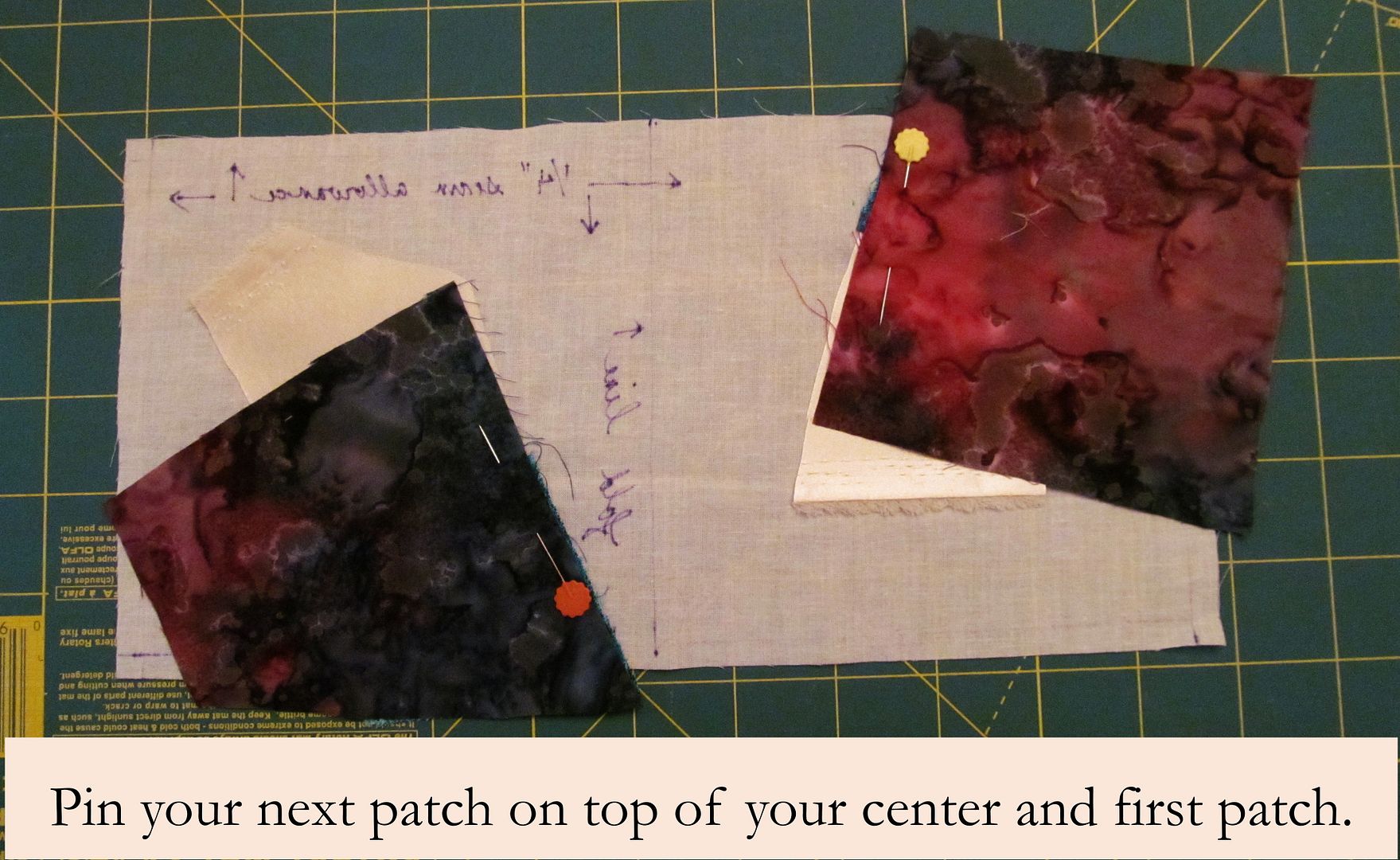 Place your third patches right side down on top of your center and second patches, pin down and sew along the matched seam.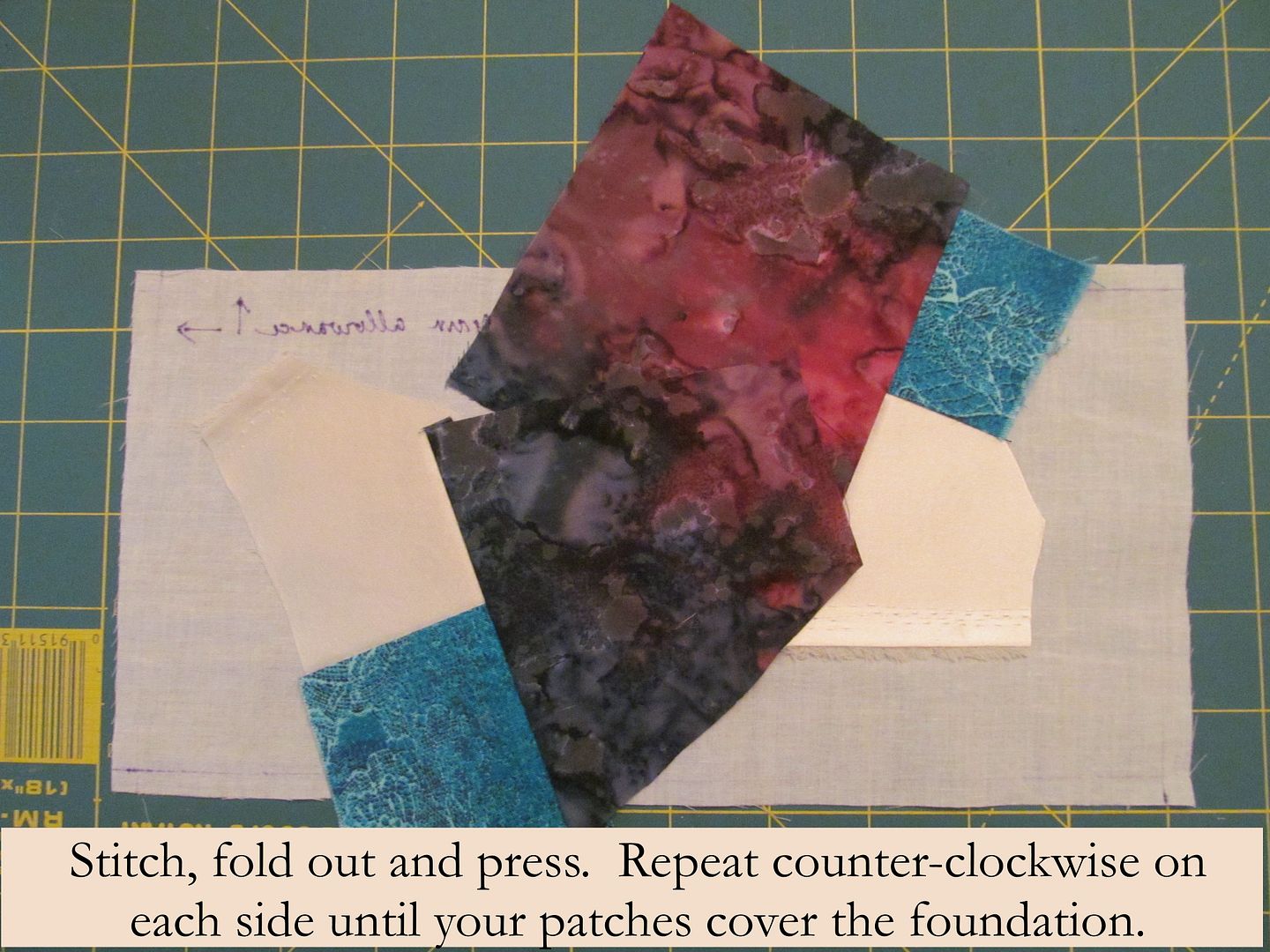 Fold out your third patches face-up, press flat with your iron. If your patches collide, as mine did in this pic, you can clip them back or fold one over the other. Repeat this patching method counter-clockwise until
your foundation piece is covered completely on both sides.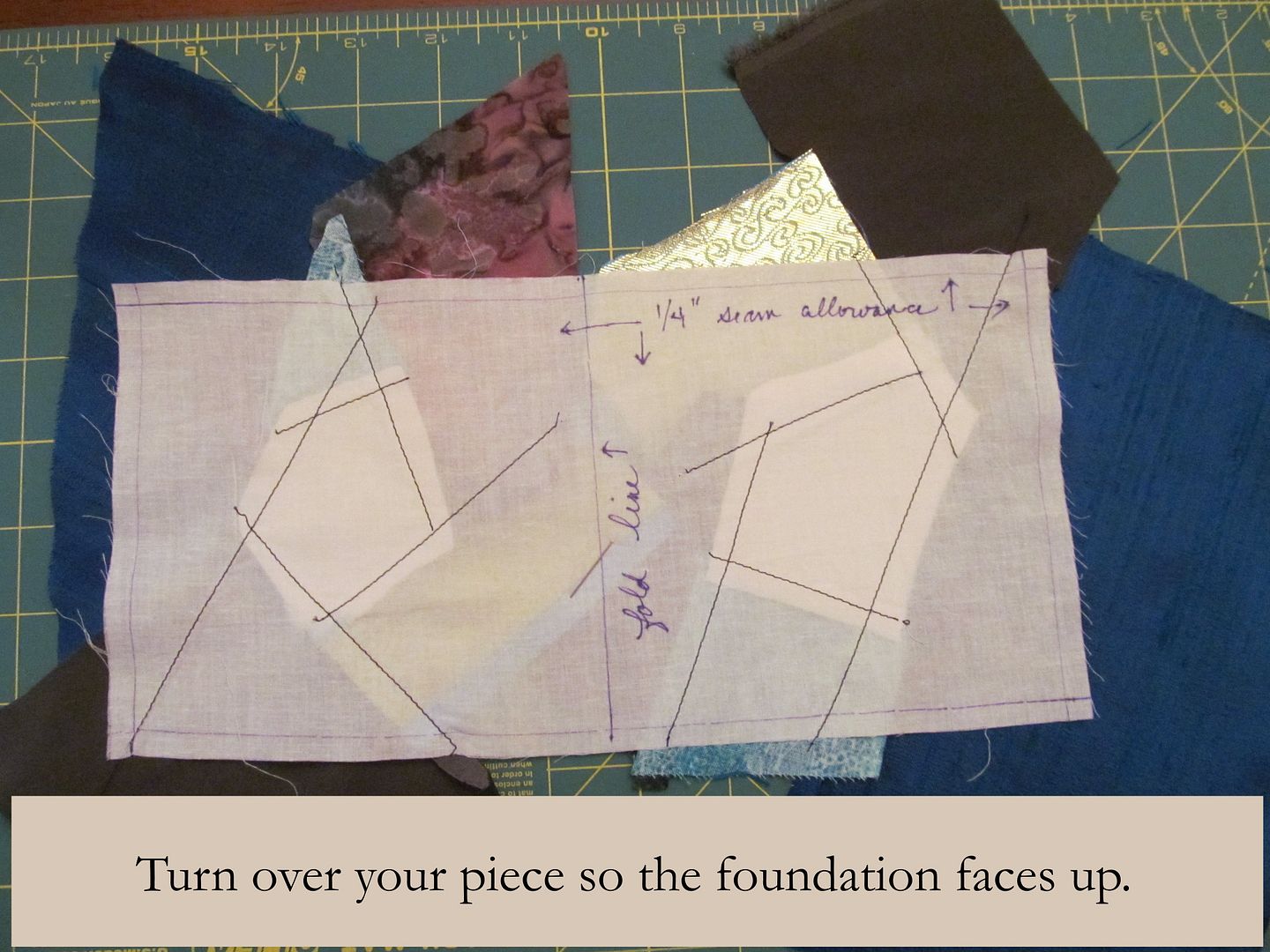 Now we're ready to trim your patchwork. Flip your piece over so your foundation fabric is facing up.
Using scissors (or your rotary cutter, ruler and cutter mat) trim your patchwork to be even with all four sides of your foundation fabric.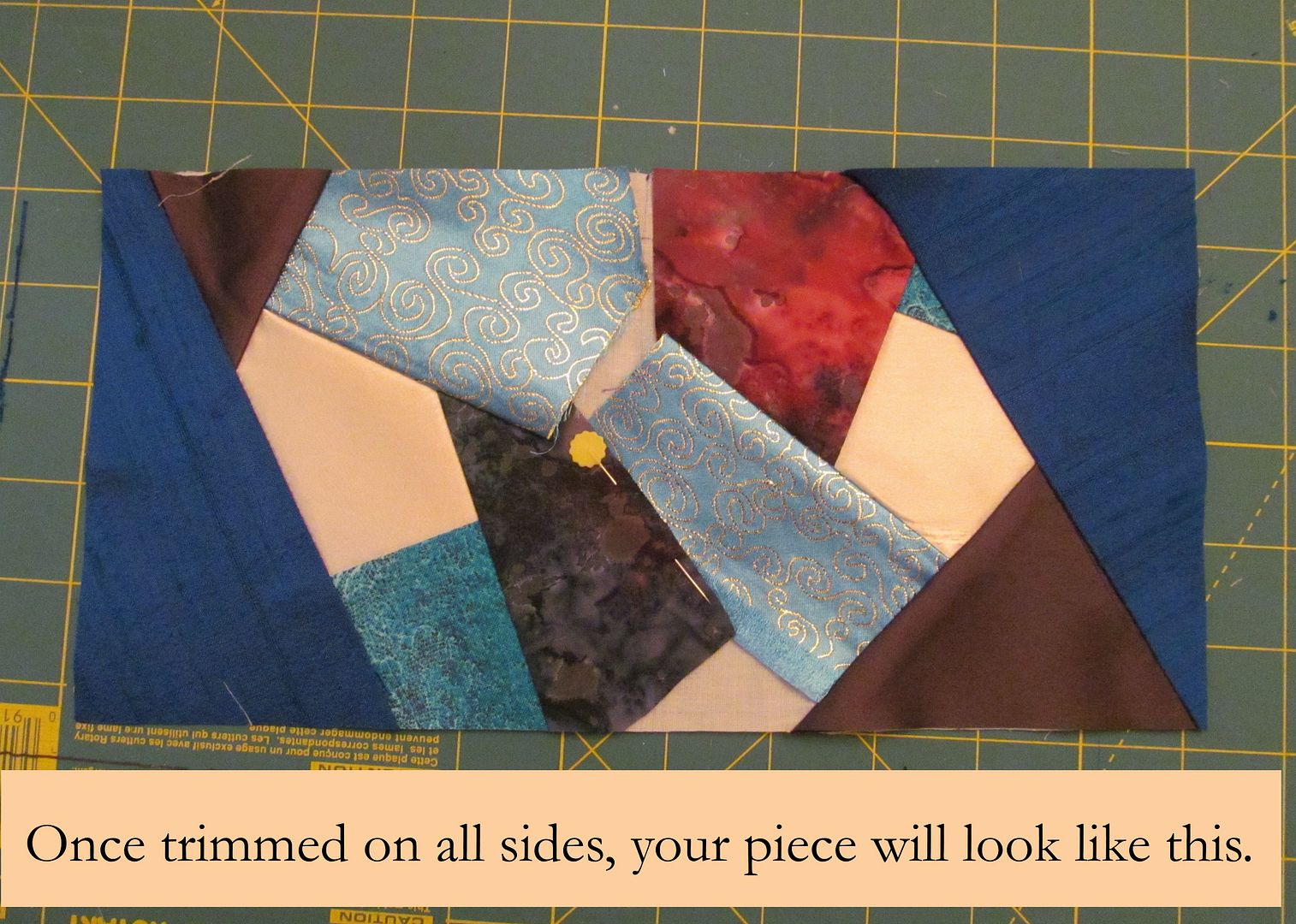 When you're finished, your piece should look like this.
Patch any voids where your foundation fabric shows through. This is also a good time to run a stabilizing stitch around the edges of the piece if you don't want the patchwork to flop around; I stitch mine between the edge and the 1/4" allowance seam line.
Add pieces of ribbon and lace to your piece, running them along various seams, pin, and baste or sew into place (I always do my lace and ribbon embellishment first because sometimes you have to weave them over and under each other.)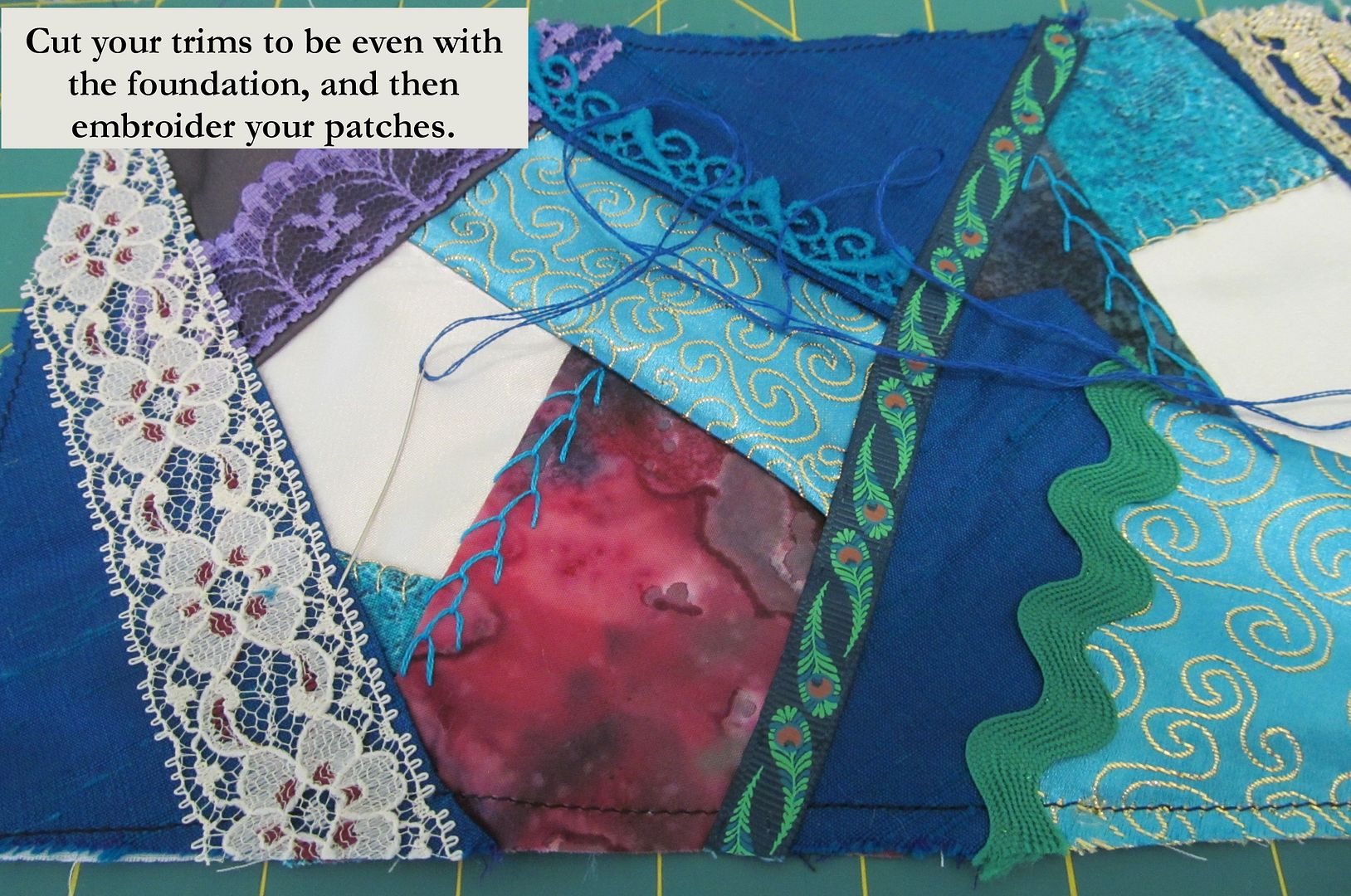 Once all your lace and ribbons are secure, trim them as you did your patchwork to be even with the edges of your foundation fabric. Now add any embroidery stitches to your piece.
Once you're finished with your embroidery stitches, add any beading you might want to do. Stop your beading at least 1/2" away from all of the edges of your piece, You can also add the old flat pendant as a center piece for the right side/front cover of your needlebook.
Place your piece of felt on top of your "cover" with the patchwork facing right-side up, pin into place (if you want to add ribbons or a closure loop to the sides, now would be the time to put them in place.)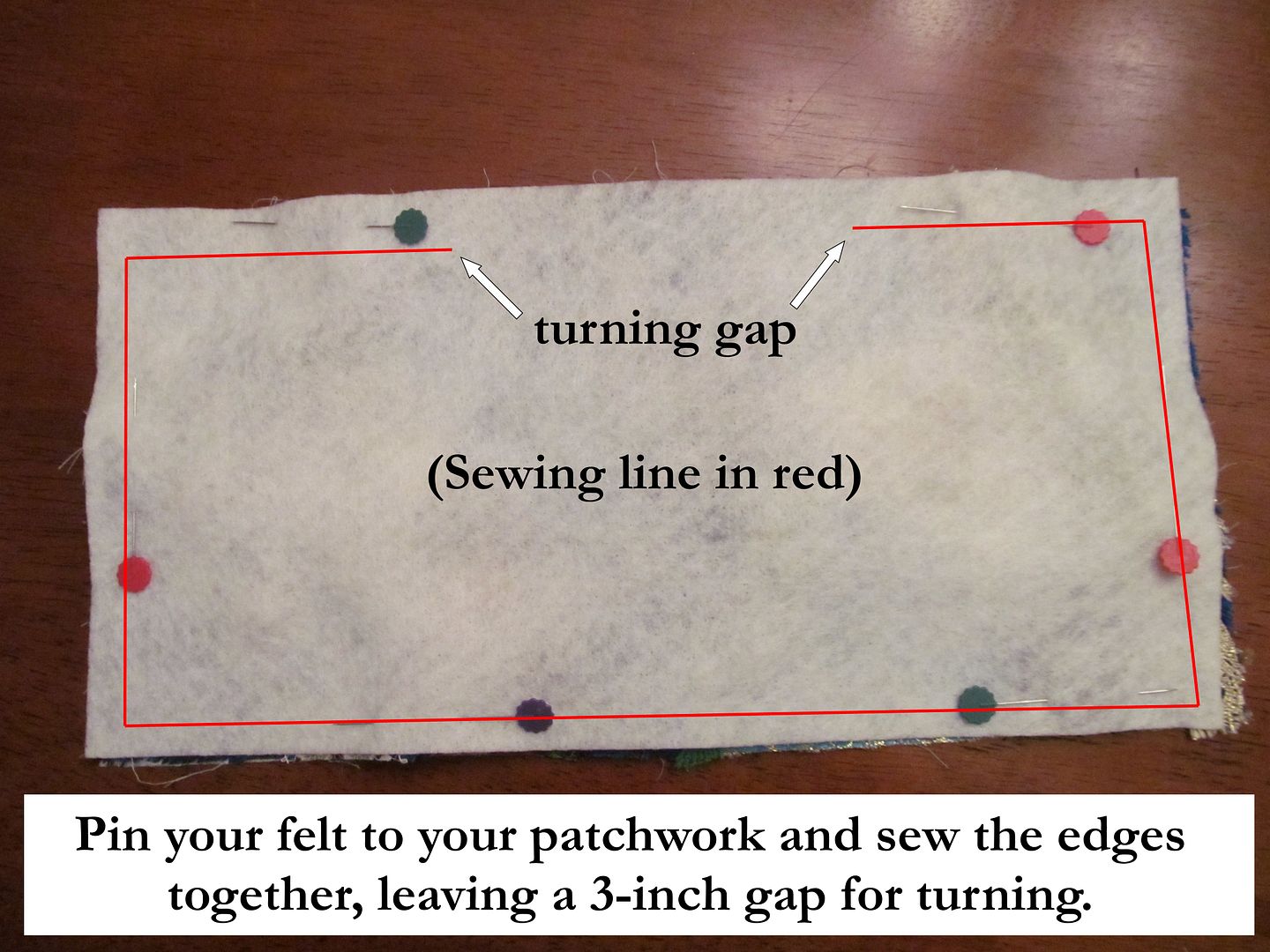 Sew your felt to your patchwork as shown, leaving a 3" gap for turning. Clip your corners and turn the piece inside out, and sewing shut your turning gap. If needed, iron to flatten from the felt side of the piece.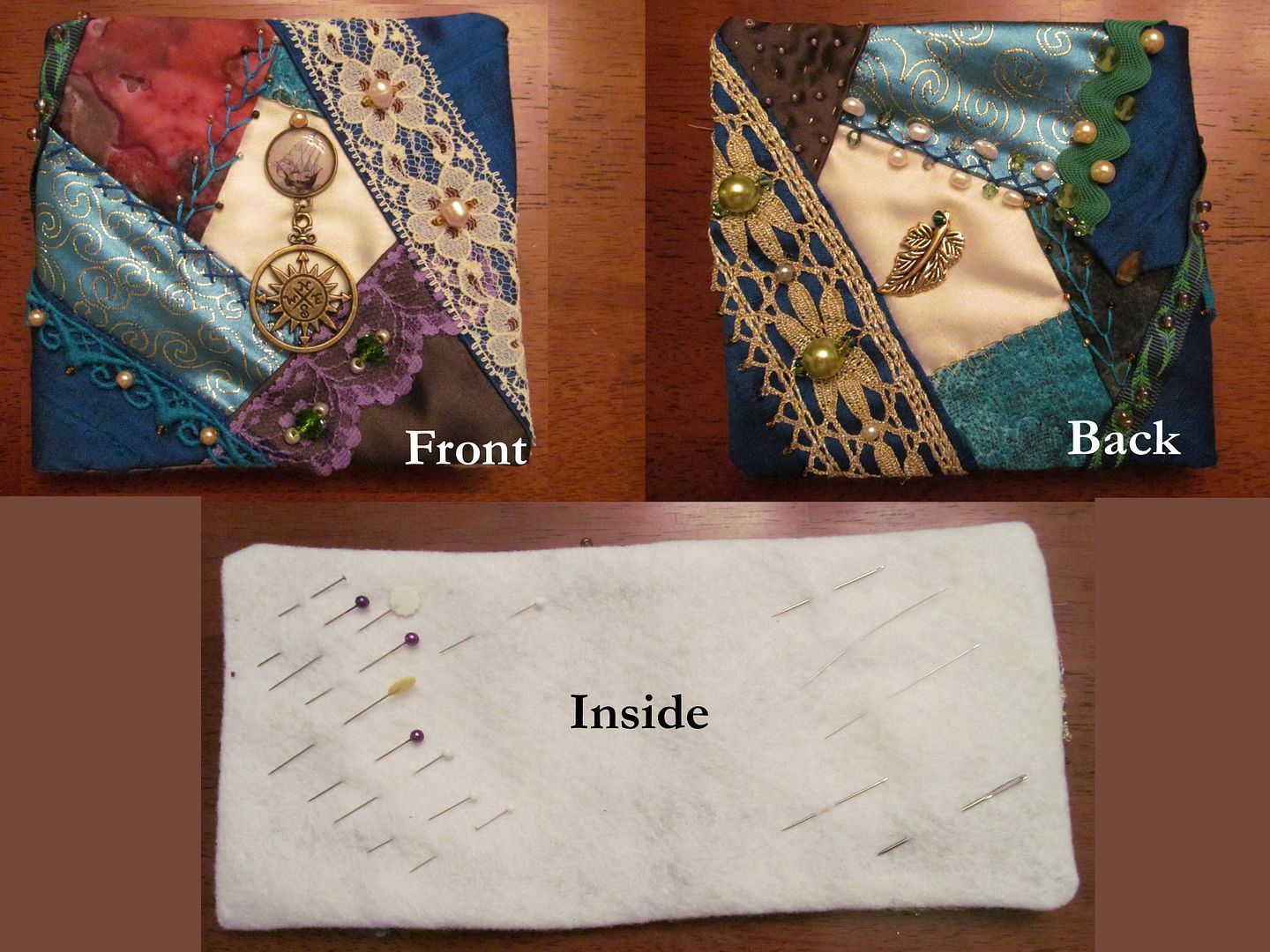 The finished needlebook ~ place your needles and pins inside, and you're ready to sew.