I love discovering something hidden away inside something else. I often find previous owners' bookmarks, postcards and other emphemera tucked in the pages of old books. As a quilt restorer I specialize in uncovering "hidden quilts" which are quilts with much older, worn-out quilts sandwiched inside them (an early form of Victorian-American recycling.) One of my favorite discoveries was a lovely old fountain pen I found that had slipped under the lining of an antique purse I bought at a church sale; to my delight once I cleaned and refilled the pen, it still worked.
Rarely do I expect to find hidden treasures in newer objects. For example, at the county quilt show this Spring I bought this pair of gorgeous quilted satin pillow covers: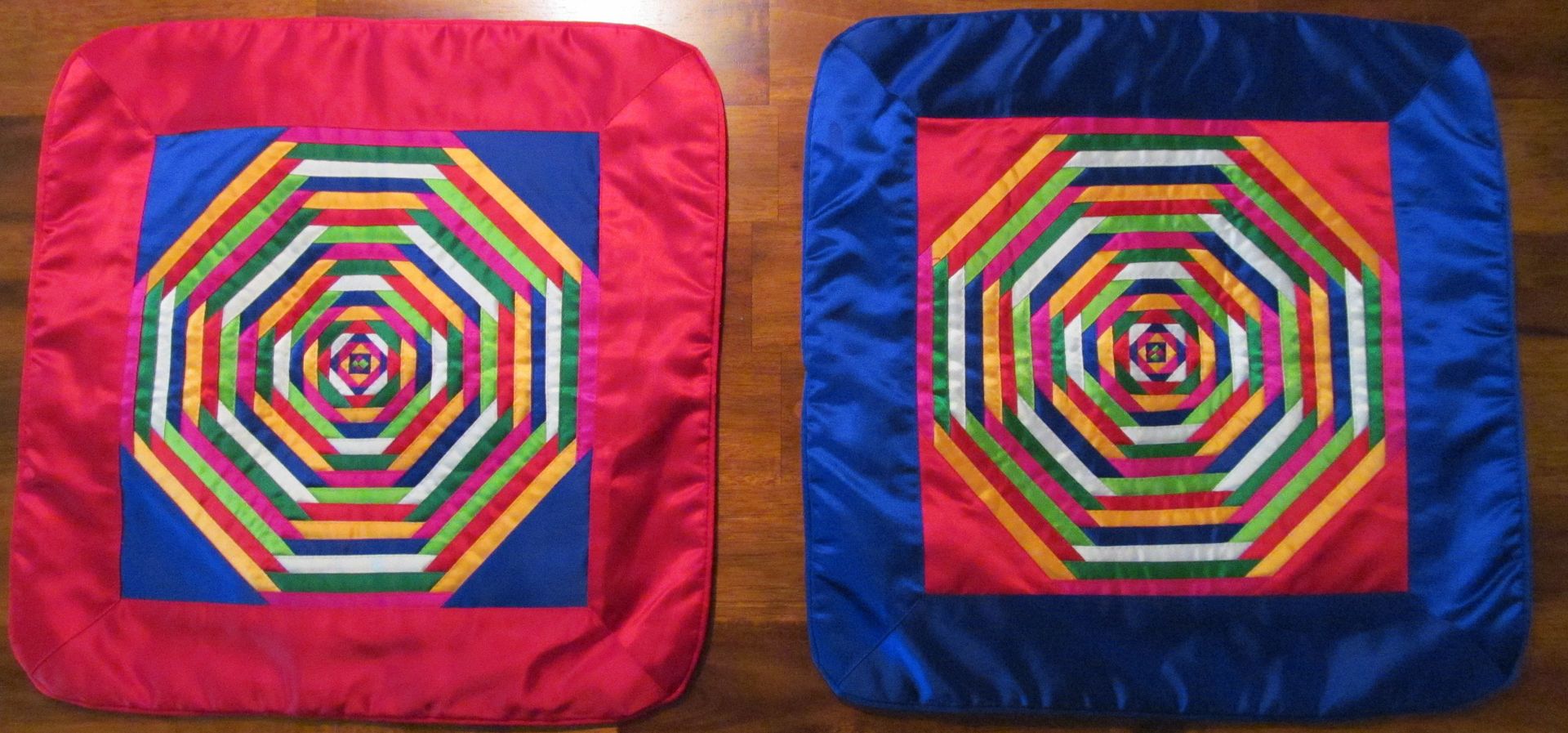 The vivid colors and precise stitching attracted me, as did the very reasonable price. After I brought them home I put them in the spare bedroom, intending to use them to recover two old throw pillows I had in there when I had some spare time. Needless to say I didn't get a chance to do that until this past week.
The quilter who made the pillow covers had inserted zippers in the back, and as soon as I unzipped the first cover I saw something completely unexpected inside: gorgeous floral embroidery used as lining to cover the underside of the stitching. I checked the other cover, which also had embroidery on the inside, and then turned both covers inside out to get a better look:
The embroidery was definitely made by machine as it's perfect and meticulous, but it's too good to be anything other than custom-made. What I don't understand is why the quilter would use two such gorgeous panels as lining material. I can't see any mistakes in the embroidery; between the two there isn't a single botched stitch or pulled thread. So why hide them away like this? It's a neat mystery that I'll probably never solve, but I am tempted to remove the both inside panels and make them into some mini-quilts. I don't want to harm the quilter's work, but they're just too lovely to leave hidden away like this.
As a writer I can relate to the quilter's hidden gems, as I often weave details into my worlds that are personal metaphors or that connect directly to something in my own life. Occasionally these are subsconscious additions (
Docket being named for my guy's to-do list
is a good example of this) but more often these details are deliberately written into the story. Primarily hiding such Easter eggs in any novel is simply for the fun of it, but it also strengthens my emotional ties to the work. Incorporating little secret bits and pieces from my life also provides unshakable creative provenance for my work. I regularly layer my secrets into a story to create multi-level metaphors so that there is a second, subtle meaning and sometimes even a third, secret meaning that only I know. Anyone who tries to help themselves to my fiction won't know where inspiration for certain aspects of it came from, while I definitely do -- which is one of the best methods of protecting the work.
Names are an excellent place to start when working on your own secret world-building; you can use important people or places in your life as namesakes (and if you don't want to use such names openly, you can anagram them into a new arrangement.) Plot lines are likewise easy to customize with hidden meaning; particularly if you base the events on real-world counterparts. Symbols or symbolic items also leave your unseen brand on a story; things that have great personal meaning to you can always be used as a private metaphor for the same or something similar in your story. Mythology, which has been the basis of innumerable aspects of world-building, is an endless well of secret inspiration, too.