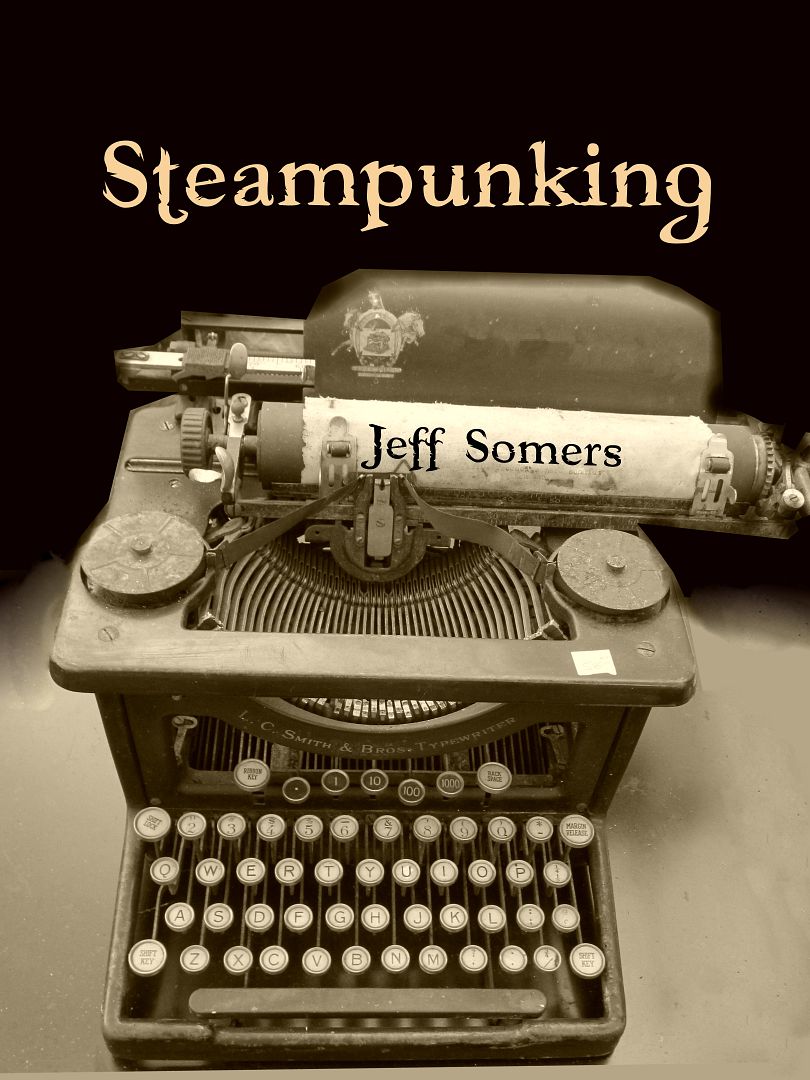 If you've watched the Disenchanted & Co. book trailer, then you know something of the wicked marvel that is author
Jeff Somers
(because he produced it.) I've described Jeff as being like Steinbeck with an attitude problem, but on the page he's much more hands-on and in your face than old John. In fact I don't think I've ever read a more darkly humorous or mercilessly skilled writer of urban fantasy noire.
Whether he's writing about a grim post-Apocalyptic SF near future or a seedy underworld of magic grifters or any of his other unapologetic universes, Jeff Somers knows how to grab a reader and hang onto their imagination. And while he's not an author I recommend to the timid of heart, or those who only wish to visit Fictional Villages of Clean, Virtuous Happy People Who Always Do Nice Things, I think his stories offer something very rare. In the midst of the worst nightmares, under the most impossible circumstances, even when you're convinced it's utterly hopeless, Jeff reminds us that there is still hope. It might not be pretty, or packaged perfectly, but hope persists.
I persuaded Mr. Somers to be our next author to steampunk, and he delivered with his usual hilarious panache:
1. If you could replace one piece of current technology with a steam-powered equivalent, what would you swap out, and what would you call it?
The coffee maker. My coffee maker right now is basically Star Trek: It uses those little pods and it's like you insert this obscure plastic thingamabob and then coffee is dispensed. For all I know the plastic pods are the currency of aliens who accept my sacrifice and give me coffee in return.
What would be awesome is if I had to turn cranks and pull levers and put on special goggles every time I made coffee, and this would allow me the opportunity to shout things through an old-fashioned tube-based communication system like The Beatles do on Yellow Submarine. Maybe also donning a lead-lined apron when I do. And all sorts of steam would fill the kitchen and pressure gauges would jump into the red zone and I'd get to scream She's gonna blow! and the house would shake and neighbors would call the police and steam would start leaking out of the windows and the chimney and the fire department would be dispatched and first-responders would take axes to my doors and smash in my windows and teams of burly men with ridiculous waxed mustaches would rush in and grab me and rush me out of the house football-style.
And then, a small shot of coffee would be dispensed. THAT WOULD BE AWESOME.
2. The Psychic Powers Fairy has picked your numbers for a one-wish lottery. What power do you wish for, and why?
I could get all meta on you and ask for the power to make modern-day gadgets steam-powered, but that seems mean.
So: I could ask for the power to mind control people. I mean, I'm assuming here I can't get like sweeping demi-god style Akira-type powers, right, you know where I could destroy cities and warp space/time with just my thoughts. I'm assuming. If I'm wrong, say the word and that is what I wish for.
Otherwise, the power to mind control people. I mean that would also result in the end of the world as we know it, it would just take a bit longer, e.g.:
STEP ONE: Acquire Mind Control Powers acquired via watery tart throwing a sword at me or some such.
STEP TWO: A series of poorly-thought out decisions.
STEP THREE: Cities in ruins, roaches suddenly evolving superintelligence to take over.
So, instead, perhaps telekinesis so I could stop all this laborious walking.
3. If you could live in any other time period prior to 1913, which would you choose, where would you live, and what would you do for a living?
Can I answer this with a DO NOT WANT? I like living in the 21st Century. The past was, by and large, a horrible place. Plus, have you ever seen those posts where people dig up like 8th-grade exams from a hundred years ago and challenge you to pass them? I would not pass. If I found myself suddenly in 1900, or 1655, or 1000 I'd be surrounded by intellectual giants who would be declining Latin in their spare time and devising new ways to measure velocity or something like that – OR surrounded by terrified ignorant peasants who would decide to burn me alive because my accent was odd or because I didn't speak Old Norse or something.
If I had no choice, I'd select the year 1912 and I would naturally wish to be President of the United States and my first act would be to suspend the Constitution and launch terrifying warfare across the globe.
4. You stumble through the Writer Way-Back machine, which means you can spend a day hanging out in any time period with any author of your choice. Who do you go see, and how do you spend the day?
Hunter S. Thompson. We spend the day exactly the way he always did:
3:00 pm rise
3:05 Chivas Regal with the morning papers, Dunhills
3:45 cocaine
3:50 another glass of Chivas, Dunhill
4:05 first cup of coffee, Dunhill
4:15 cocaine
4:16 orange juice, Dunhill
4:30 cocaine
4:54 cocaine
5:05 cocaine
5:11 coffee, Dunhills
5:30 more ice in the Chivas
5:45 cocaine, etc., etc.
6:00 grass to take the edge off the day
7:05 Woody Creek Tavern for lunch-Heineken, two margaritas, coleslaw, a taco salad, a double order of fried onion rings, carrot cake, ice cream, a bean fritter, Dunhills, another Heineken, cocaine, and for the ride home, a snow cone (a glass of shredded ice over which is poured three or four jig¬gers of Chivas)
9:00 starts snorting cocaine seriously
10:00 drops acid
11:00 Chartreuse, cocaine, grass
11:30 cocaine, etc, etc.
12:00 midnight, Hunter S. Thompson is ready to write
12:05-6:00 am Chartreuse, cocaine, grass, Chivas, coffee, Heineken, clove cigarettes, grapefruit, Dunhills, orange juice, gin, continuous pornographic movies.
6:00 the hot tub-champagne, Dove Bars, fettuccine Alfredo
8:00 Halcyon
8:20 sleep
5. I noticed you have a nice list of free short stories on your web site. If you could pick for me, which story would you want me to read first?
"In This Slowly Rising City, So Bereft of Company" (http://jeffreysomers.com/blather/?p=2510). Written in the late 1990s and published in the zine The Whirligig back in 2002, this is still one of my favorite stories. I just like the pragmatic way everyone accepts what's happening, and the sad tone of it all, if I do say so myself.
Thank you, Jeff, for making me laugh so hard I had to recode this post four times (and I want to mention that Jeff's latest release,
Chum
, is hitting the shelves on September 18th. While we're waiting on that, I have a giveaway of Jeff's books and some fun geeky-themed prizes to go along with them:
The winner of the giveaway will receive:
-- Unsigned paperback copies of Jeff's complete Avery Cates series along with
Trickster
, the first book in his new series
--
The Writer's Lab
by Sexton Burke
--
Writing the Paranormal Novel
by Steven Harper
--
How to Tell if Your Cat is Plotting to Kill You
-- The Geek edition of Magnetic Poetry
-- A typewriter-shaped notepad
-- The Predict-a-Pen
-- Handy bookmarks
-- A brand-new black and denim O'Neill backpack
And to give you a look at the prizes, here they are heaped on my office chair: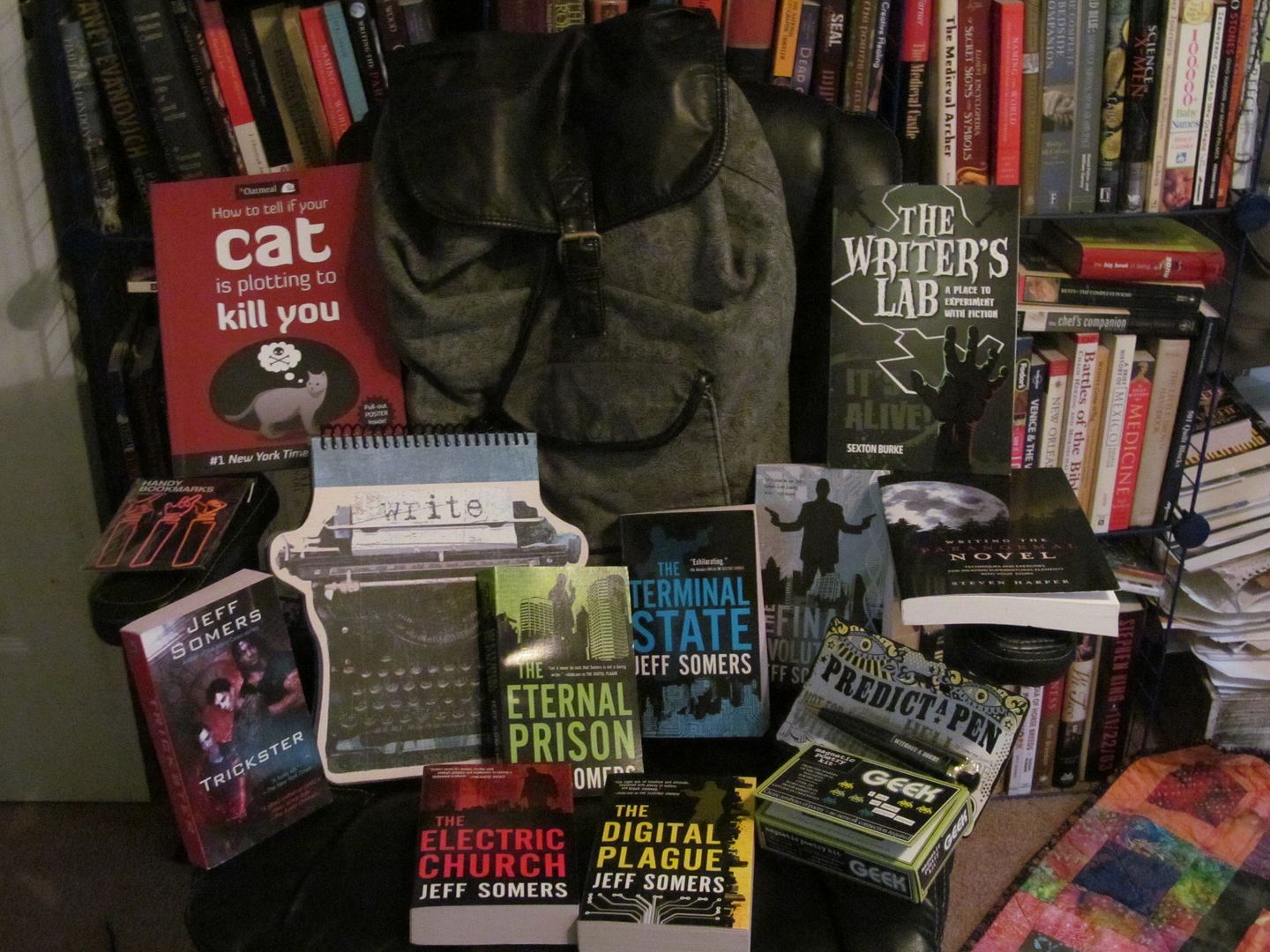 If you'd like a chance to own all this stuff, in comments to this post name the author (living or gone) with whom you'd most like to spend a day by midnight EST on Friday, August 23, 2013. I'll draw one name at random from everyone who participates and send the winner the whole pile. This giveaway is open to everyone on the planet, so please join in.