This is an update on my
watercolored journal project
, which turned out so well I wanted to do something special with the cover. To begin with, once I finished painting the pages I let it sit open to dry thoroughly for about a week; this is an important step because any lingering dampness can cause your painted pages to stick together. If there is some residual stickiness, you can try lightly rubbing the surface of the culprit pages with a piece of wax paper.
After a week I applied two coats of white gesso to the outside cover, which neutralized the cover color but didn't prevent the embossed title and byline from showing through, as you can see here. My original intention was to then paint the cover as I had the interior pages, but I didn't want those words showing through the final application of paint. I probably could have applied a couple more coats of gesso to see if that would have helped but given that the outside of a journal is the part that is most often handled I was concerned about cracking and flaking. For this reason I opted to apply paper on top of the gesso first.
The paper I chose is a printed, rolled tissue from
Tim Holtz's idea-ology line of products
; I liked the dictionary imprints and the look of the paper. It also had a faintly waxy feel to it that I thought might work well as a subtle resist for the watercolors.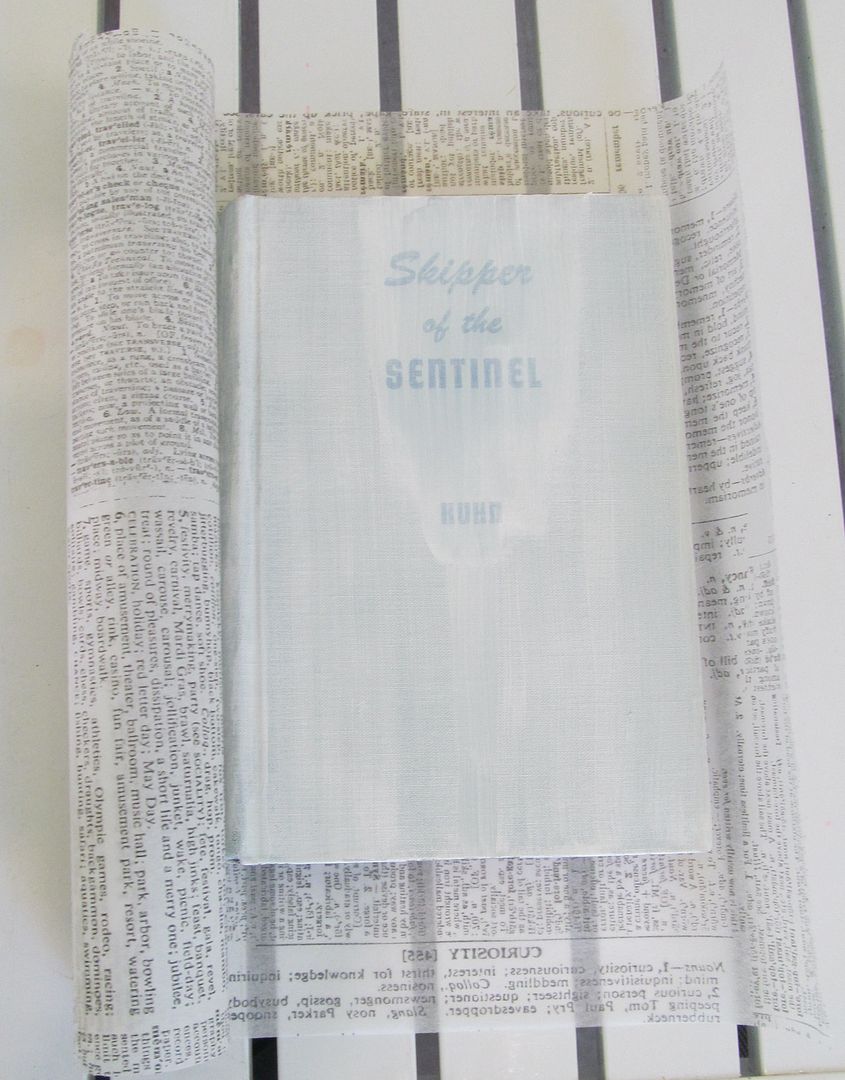 The paper was a good choice; it's very thin and flexible and adhered like a dream (and I used a washable-type glue stick which would allow me to get it off fairly easily if I didn't like the results.) I let the journal dry again for 48 hours before I painted the recovered cover with watercolors.
The waxiness of the paper did provide some initial resist for the watercolor, but after a second coat the paint blended well and soaked into the paper (and some of my edges curled up, thanks to the washable glue I'd used, so I had to glue those back down.) The transparency of my watercolors also allowed most of the words printed on the paper to show through, which was a nice effect.
As a final touch I used an awl to punch two holes in the front cover, and added this antique keyplate with two brads:
Now I can begin writing my journal, and I'll probably use a collage approach to adding to the pages. I'll also try some semi-transparent papers like vellum, so that the colors of the pages show through whatever I write on them. Once I have it filled I'll show you how the pages turned out in a future post.
This was a fun experiment, and while it wasn't especially fast I think anyone could make their own watercolored journal for less than five dollars, especially if you shop for your supplies at a dollar store. Some other options for altering the covers could be sewing or gluing fabric, canvas or brown paper to the outside, or using a premade elastic-edged school book cover, which can simply be slipped over the original cover.