There are very few writers I consider grandmasters; that sort of storyteller is one who spends a lifetime working at and developing their art. They must also be uniquely gifted, an unwavering lover of the words, and on top of all that a steadfast survivor who never gives up, no matter how tough things get. At the very top of my short list of grandmasters is author
Anne Stuart
.
The winner of multiple major publishing honors including several RITAs and a much-deserved Lifetime Achievement Award, Anne Stuart has been writing books for close to forty years now. Her bibliography of novels and series in multiple genres is vast and dazzling, including some of the most provocative and talked-about books in romance. She's daring and unapologetic and completely brilliant with characterizations; all together she delivers stories that are genuine, original and simply unforgettable.
Her latest release,
Never Kiss a Rake
, is the first novel in her
Scandal at the House of Russell
series. It's set in 1869 London, so it's full of Victorian-era fun, and I enjoyed it so much I bought a boxful of extra copies to hand out to friends. Anne also kindly agreed to be our September author to interview, so let's ask her some questions:
You've just received a round trip time ticket that allows you to jump back through time to spend one day anywhere in the world during any period in history. Where would you like to go, and what would you like to do while you're there?
Well, that one's not easy. I'm trying to think of something really happy, and I'm going to sound a bit like a fanatic, but I think I'd like to be there when Christ was born. A) I love babies. B) this was an event that changed the world, in good and bad ways, so it must have been really really magical. Plus, if it happened at night, which presumably it did, it wouldn't be too hot in the desert.

Failing that, I probably would want to see some magnificent live performance. Not Shakespeare in his own time period – you had to stand for the performance and everyone would be smelly. Maybe Alan Rickman in "Les Liaisons Dangereuse" or maybe the first night of "My Fair Lady." However, if I could go back and change history then I'd kill Hitler with a suicide bomb (probably the only way to get away with it) or some other crazy-ass monster. Of course, then I wouldn't need my return ticket.
A package mailed during the late 19th century just arrived on your doorstep, and it contains something you've always wanted that dates from the Victorian era. What's in the package?
Hmmm. I have things that date from the Victorian era, because my grandmother dated from then (everyone has babies when they're old in my family). I can think of a dozen things – ornate jet jewelry, steamer trunks, heavy silver, brass. Love brass – a brass spyglass would make me happy.
We've hired a steampunk inventor who can make any one gadget, appliance or machine you'd like. What should we tell him to get to work on for you?
Well, that's tricky. My obvious suggestion would be the perfect steampunk outfit. My second choice would be a fully functional android that looks like this:
If you could cast a magic spell to bring two of your characters to life, which pair would you choose, and why these two?
I'm torn. I'd like one of my historical heroes and heroines because they're just so naughty, but in the end I'd go for Killian and Isobel in ICE STORM, because they went through so much, for so many years, and managed to carve a happy life out of everything. In fact, that's true for almost all of the ICE characters, so anyone would do. Otherwise I'd take a wicked Rohan and his true love because their wickedness is vastly amusing. They're not nearly as bad as they think they are.
After living in a cave in Tibet for forty years I really need something wonderful to read, and the first place I'm going to visit is the Anne Stuart book shop. Which of your novels should I buy first?
Depends whether you want light or dark. I'd say go for BLACK ICE. I'd recommend NIGHTFALL, the book that's so good it cures cancer, but it's really really dark, and it takes a little while to get past it. If you want a light, fun historical with a wicked hero go for THE DEVIL'S WALTZ or NEVER KISS A RAKE.
Thank you so much, Anne, for letting us steampunk you. To celebrate the release of
Never Kiss a Rake
and all that is the marvelous Anne Stuart, I've put together this giveaway: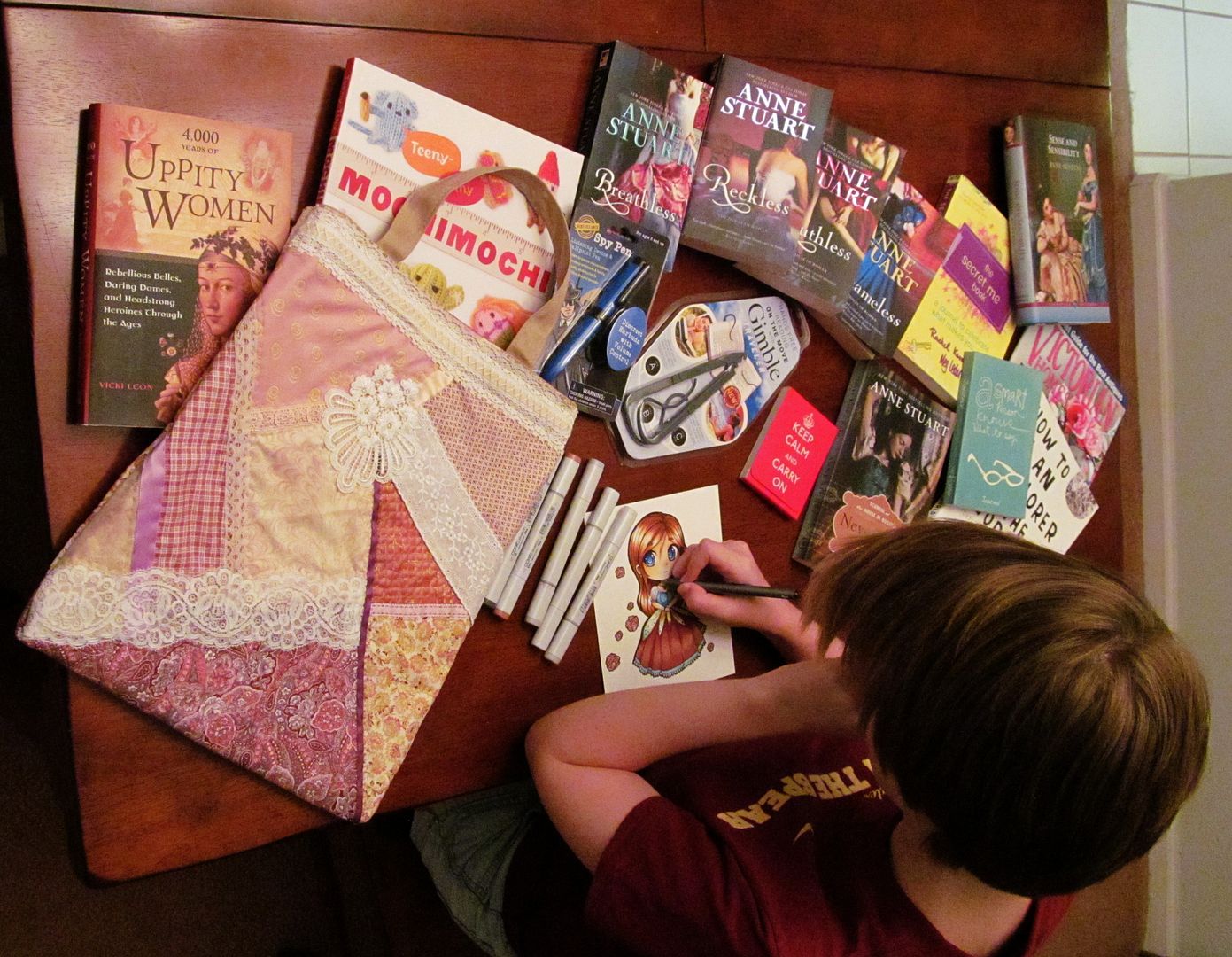 The giveaway consists of:
A trade paperback copy of Anne Stuart's
Never Kiss a Rake
and paperback copies of her House of Rohan novels
Breathless, Reckless, Ruthless
and
Shameless
Sense and Sensibility
by Jane Austen
MochiMochi
by Anna Hrachovec
The Secret Me
guided journal by Rachel Kempster and Meg Leder
4,000 Years of Uppity Women
by Vicki Leon
How to be an Explorer of the World
by Keri Smith
The Gimble Traveler
A Smart Person Knows What to Say
blank journal
The Fall 2013 issue of
Victorian Home
magazine
A nifty Spy Pen
A Keep Calm and Carry On notepad
A handquilted tote made by Yours Truly
A print of a chibi version of Bryony Russell, the heroine of
Never Kiss a Rake
, being drawn by my kid in the giveaway pic (and this deserves a close-up):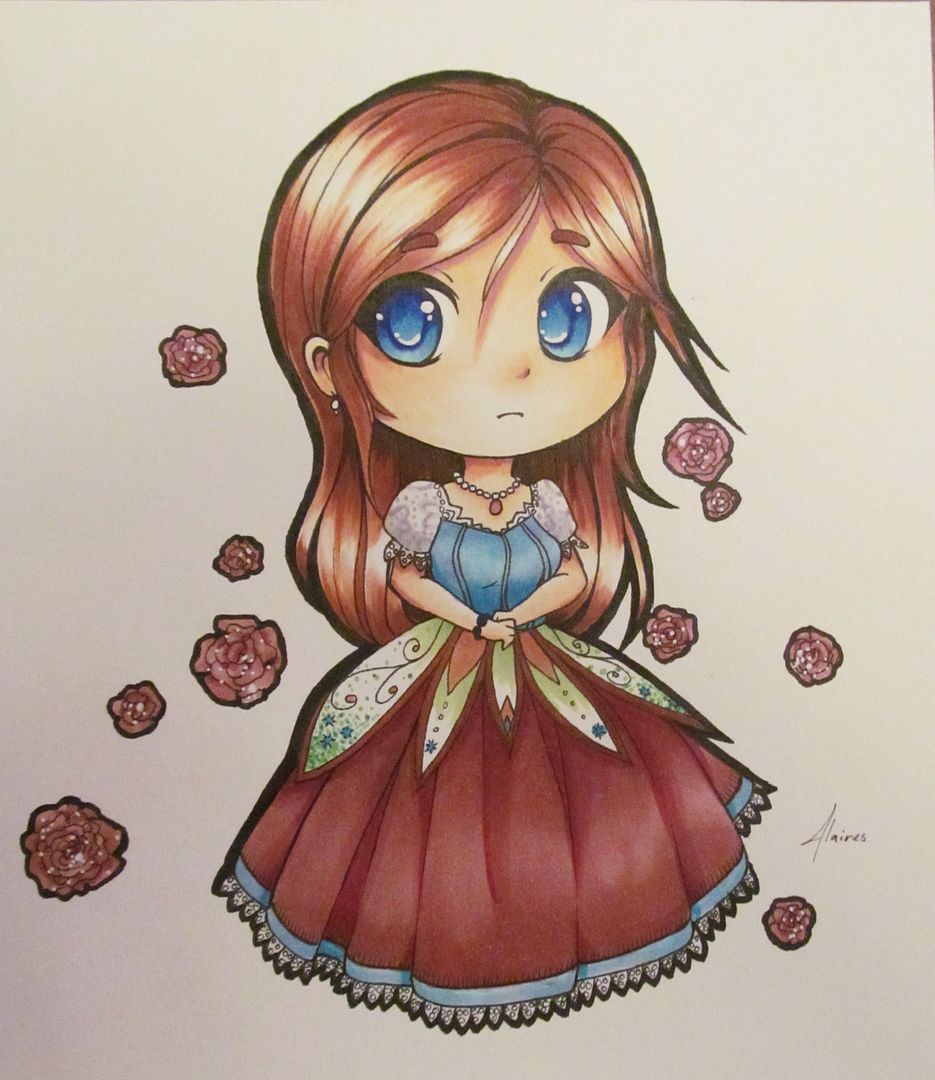 If you'd like to win the entire pile, in comments to this post name something you've always wanted from the Victorian era by midnight EST on Sunday, September 22, 2013. I'll draw one name at random from everyone who participates and send the winner all the giveaway books and goodies. This giveaway is open to everyone on the planet so please join in.
(steampunk guy image credit:
Mad-makeup
)