The Daily Mail recently published
a fascinating photo sampler here
of retail shops in Shropshire during the Victorian era, which makes me think window-shopping was a lot more fun 125 years ago.
Photo collections like these can be gold mines for storytellers researching a particular era; there are hundreds of details to be gleaned from each image. I'm current world building a merchant's quarter in Toriana and want to get more of a Victorian feel for the names of my shops and what they advertise in their windows, and these pics are being immensely helpful, particularly with how the shops' signs should look and be worded: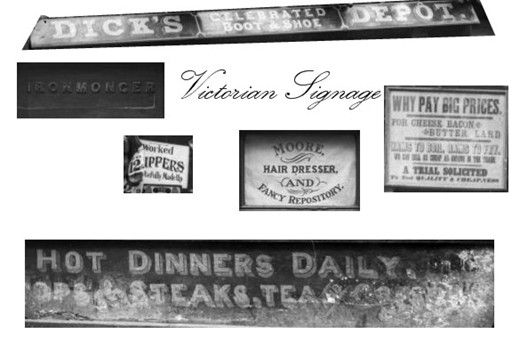 Historic photos provide many excellent opportunities to engage your imagination. When you examine them, jot down notes on what attracts you (and what doesn't.) Imagine yourself in the picture and make a list of what you think your senses would detect. For example: what are the predominant colors you'd see, and what scents would be the strongest in this spot? If there are any people in the photo, make up a name for each, and (if it's not readily apparent) an occupation. If you want to use the person as a character, first see if you can envision more details about their history, family and daily life (I always test my vision of a photo-inspired character by writing a one-page bio.)
When using old photos to inspire your storytelling you should also digitally store or print out copies for further study and future reference; you may get more use out of them for other stories, too, especially when the images are highly-detailed like these.
Related link:
Story Portraits