As promised Her Ladyship has collected a few things from our MegaCon booth goods for a giveaway here: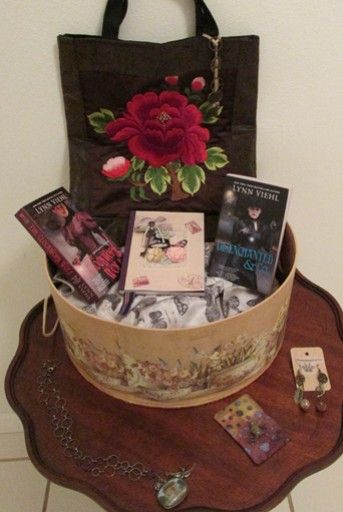 As you can see there will be signed print copies of both books, along with a little steampunk journal, a vintage necklace I made from an antique Paris souvenir and some Victorian charms (very neat, and very Torian), a pair of steampunk earrings I also designed and made, and one of the quilted ATCs from my 1000 cards project. Everything will also be packed in the tote you see in the pic, which I made from the hidden embroidered panel I salvaged (you remember that, right?)
If you'd like to win the lot, in comments to this post name your favorite show, conference or convention, or one you'd like to attend someday, by midnight EST on Sunday, March 23, 2014. I'll draw one name at random from everyone who participates and send the winner the prize tote with all the MegaCon goodies. This giveaway is open to everyone, so please join in.